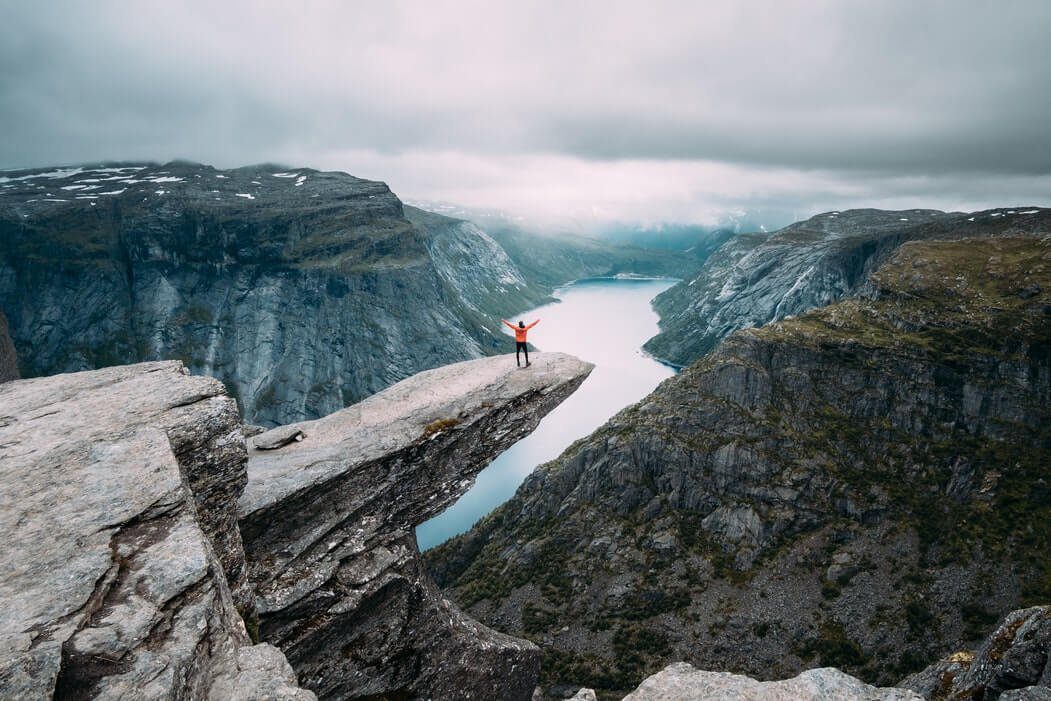 Most Scenic Attractions in Norway
Norway celebrates its beauty as one of the most incredible countries in the world. From majestic mountain ranges and iconic fjords to contemporary picturesque cities. As a result, it is home to some of the greatest adventures that are sure to leave you spellbound. Whether it is a wondrous view of northern lights or a massive glacier glistening under the summer sun, Norway will never cease to please you with its scenic attractions.
Here's a guide to some of the most scenic attractions in Norway that you've got to add to your bucket list,
Also known as Preikestolen, the Pulpit Rock is identified as one of the most popular tourist attractions of Norway. Standing 604-meter-tall over the Lysefjord, this high cliff is observed to be a perfectly square plateau, bearing a sound resemblance to a preacher's pulpit. Thus, lending it a better-known name, the Pulpit Rock.
This breathtaking hike towards the south of Norway welcomes you with beautiful views across Lysefjord. So, if you want to treat your camera to some fantastic shots, the hike up-hill will take about two hours. There is no need to worry about the track as it is well-graded, and you'll mostly walk across on stone steps. Once, you reach the top; you are ready to mesmerize yourself to an experience of a lifetime. You can dare yourself to sit on the steep cliff and flaunt your bravery with some Instagram worthy pictures. And if you wish to catch the sunlight at the summit, start the walk at night. And you will witness a magical sunrise that is beyond grateful for your experience.
Hiking Season: May – October
Travelling Duration: From Stavanger, Preikestolen is about 90 minutes away by road. And in the summertime, you can quickly get a ferry from Stavanger to Tau and Pulpit Rock is just 30 minutes away from there.
Nearest Places to Stay: Preikestolen Fjellstue, Hostel Ryfylke Vandrerhjem Vaulali and Lilland Hotel
Travel Tip: Complement the hike with a Lysefjord cruise or try joining a guided tour at late hours to enjoy the sunrise.
2. Geirangerfjord
The Fjord Norway Network is home to some famous tourist attractions in Norway. Among these spectacular fjords is the iconic Geirangerfjord near the coastal town of Ålesund. Sitting in a blanket of the most beautiful scenery in the southwestern territory of Norway, this fjord stretches over a distance of 20 km. The glittering wonder of deep blue water has crowned the Geirangerfjord as the best UNESCO World Heritage.
The Geirangerfjord celebrates its beauty as one of the most scenically outstanding fjord destinations on Earth. This fairytale landscape features glistening snow-capped mountain peaks, majestic and wild waterfalls and a lusciously green farm. With plenty of raw natural land formations, it also has one of the best viewpoints—each one sporting a fantastic panoramic view for the tourists.
There are several cruises and sightseeing tours that you can book to enjoy the exemplary beauty of Geirangerfjord. From deep engraved glacial valleys to hazy waterfalls with rainbows, you have a lot to explore.
Best Viewpoints: Dalsnibba, Flydalsjuvet and Løsta.
Famous Waterfalls: Seven Sisters Cascade and the Bridal Veil.
Things to do: Rafting, Hike in the mountains, Enjoy a Sightseeing tour, Skywalk to Dalsnibba.
Nearest Places to Stay: Grand Fjord Hotel and Grande Hytteutleige and Camping.
Travel Tip: Be sure to take a ride through the winding Eagle's Road for an awe-inspiring journey to the Ørnesvingen viewpoint. This road has 11 harpin bends, each featuring amazing views.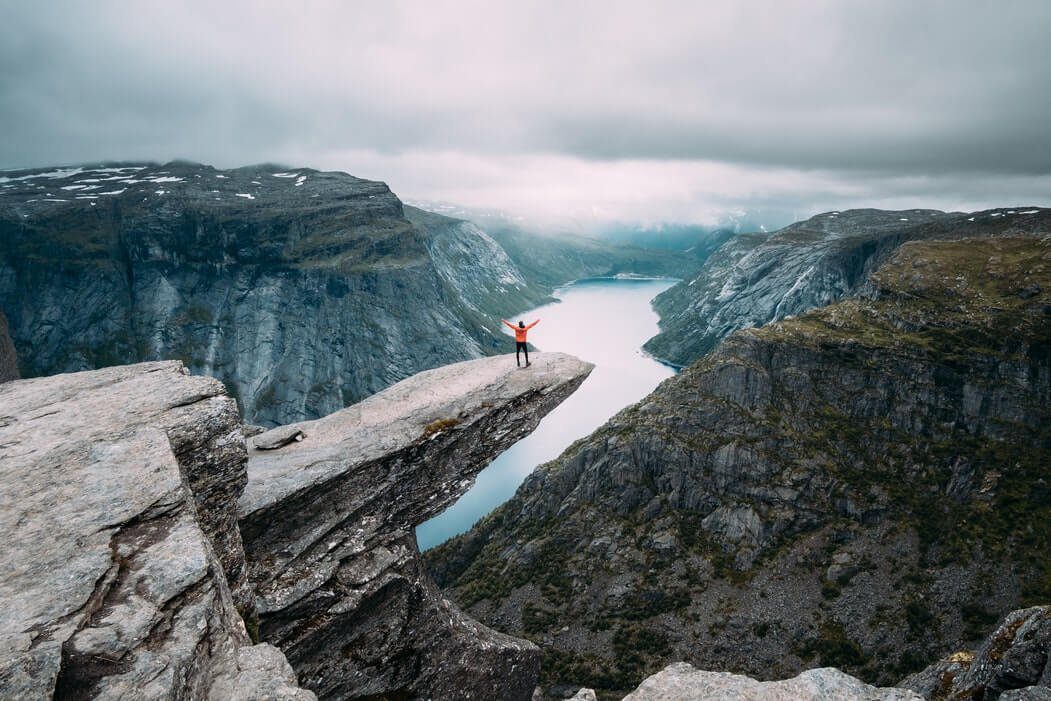 Your ultimate Norweigan adventure will start at Trolltunga; one of the most spectacular scenic cliffs in the country. Standing above lake Ringedalsvatnet in Skjeggedal, the cliff has a tongue-like shape, thus, the name, The Troll's Tongue. At the height of over 11,00 meters above sea level, the cliff offers an exhilarating experience like never before.
The round hike trip to and from Trolltunga takes approximately 12 hours. However, the challenging hike guarantees a dramatic indulgence into the fjord landscape. As soon as you ascend the cliff, the daunting experience will amplify at each level. But you will almost feel like floating in a heavenly place, with clouds right above you. And deep blue water right down. Furthermore, to multiply the treasured moment, the Folgefonna glacier waits for you to enjoy its beauty.
Above all, this cliff earns its insta-worthy beauty from the breathtaking view of mountain ranges along with it. Hence, making it one of the most visited scenic attractions of Norway. 
Hiking Season: June-September (you can hike alone if you are an experienced hike) and then October- May (only hike with a guide in winter season).
Things to Bring for the Hike: Make sure that you carry a waterproof backpack, water bottle and water purification tablets. And to refuel your body for the long hike, some snacks would be wise to pack. Also, carry a comfortable pair of pyjamas. 
Nearest Places to Stay: Trolltunga Guesthouse, Tyssedal Hotel and Trolltunga Hotel.
Travel Tip: To enjoy the phenomenal beauty of Trolltunga, book a two-night trip. Therefore, you can start hiking early morning on the first day and explore surrounding areas the next day. 
4. North Cape
North Cape is identified as the northmost point of Europe. This magical place is where the Arctic and Antarctic Ocean meet and their waters marry each other. Therefore, this place has earned its place as one of the most popular travel destinations in Norway. And the plateau itself rises 307 metres right above the Arctic Sea. 
Located on Magerøya at the far end of the European land. That is to say that the North Cape enjoys the midnight sun longer than any other region in the country.  This, therefore, signifies it is even more beautiful when the sun is gleaming right above the sky.
While North Cape offers an astounding range of artic adventures, it is famous for other activities as well.
Hiking Season: You can visit North cape all year around.
Things to do: Make reservation for a bird safari and hike on the snow-peaked mountains. You can also watch the northern lights. 
Nearest Places to Stay: Kirkeporten Camping, Nordkapp Camping and Scandic Hotel Nordcapp.
Travel Tip: North Cape is often considered on the pricier side when it comes to ticket and commute. Therefore, if you are a student, a senior citizen or someone else who is eligible for a discount, try to get one.
5. Kjeragbolten
The daredevil hike to Kjerangboleten is sure to qualify as the highlight of your trip to Norway.  Most certainly, tourists around the world, recognize Kjeragbolten as a free hanging boulder between two mountains. Overlooking the wonders of Lysfjord, this infamous hike near Stavanger is considered to be a daunting adventure. Hence, the myth that getting up there is not for ones with a faint heart.
The complete distance of the Kjeragbolten hike sums up to 12 km with 570 meters of climbing. Therefore, it will take around 6-8 hours to make the round trip.
Hiking Season: June through September are the recommended months for hiking.
Travel Tip: Be sure to wear gloves when you start the hike. Because in the steepest areas you will be holding cold and rough chains to climb up.
6. Reine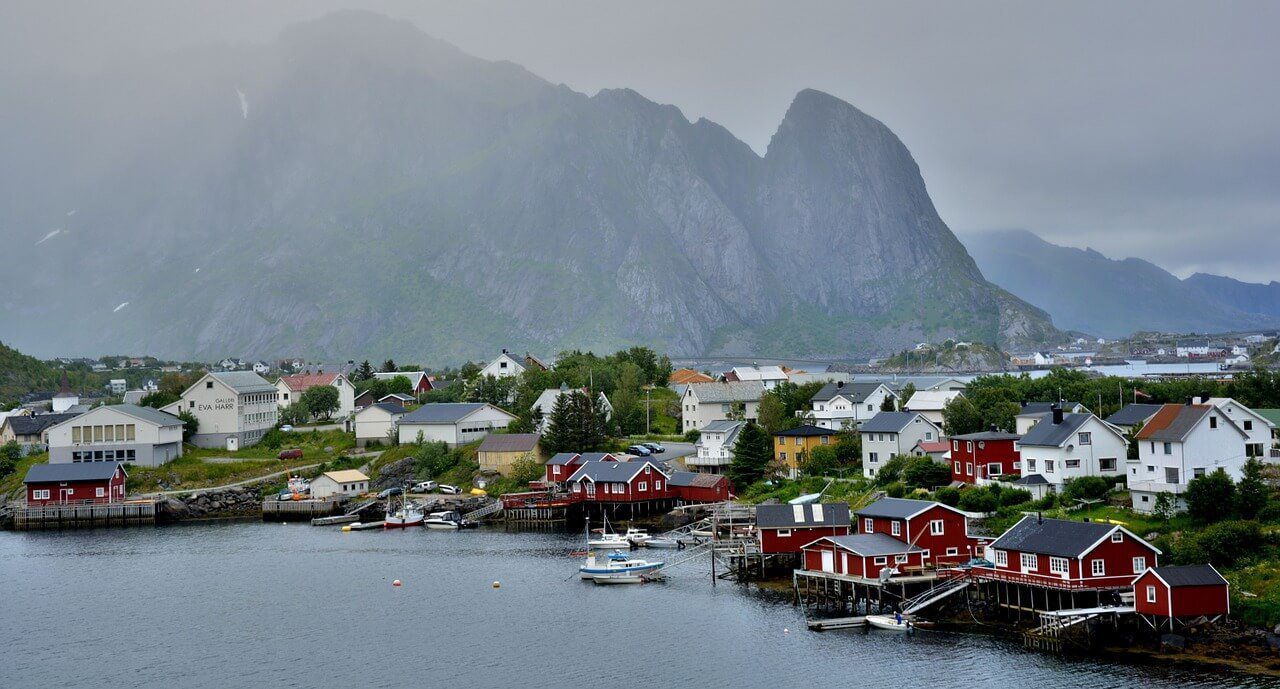 The tiny fishing village of Reine is known to draw thousands of tourists to its scenic surroundings. Located on the island of Moskenesøya, the village sits around a blanket of clam waters and slopy hills. That is to say that Reine is the ultimate place for a peaceful day in the outskirts of Norway.
Famous for its majestic location by the Arctic Ocean and a mesmerizing view of the Lofoten peaks. Reine is one of the best places to stay when exploring the Lofoten Islands. Above all, this picturesque village offers an abundance of activities for tourists all year round.
Hiking Season: You can visit Reine at any time of the year. In summers you can enjoy the long days, featuring the midnight sun. And in winters, a show of northern lights will await you. 
Things to do: You can go for a Northern Light Photo Tour. Book a Kayak Tour on the Reinefjord and even go for Midnight Sun Kayaking. 
Nearest Places to Stay: Reine Rorbuer is one of the best hotels to stay when in Reine. Other places include May's Apartment and Lofoten Bread and Breakfast.
Travel Tip: For a memorable experience, layer yourself in warm cosy clothes and find your way to Bunes Beach, especially at night. And settle yourself in a spot sweet spot at the sandy beach to enjoy the dancing Northern Lights.
7. Bryggen
Bergen's iconic UNESCO World Heritage site, Bryggen is the heart of the city. Featuring vibrantly painted wood houses, this sightseeing area in Bergen is both, lovely and inviting.
Bryggen has undergone several reconstructions over the years. Hence, with each renovation cycle, the beauty of this German Hanseatic League houses elevated. From medieval art to contemporary design, you are sure to find contrasting architectural styles in this town. 
Things to do: You must visit the Hanseatic Museum and don't forget to shop at the local stores in the wooden alleyways.
Nearest Places to Stay: Raddison Blu Royal, Det Hanseatiske Hotel and First Hotel Marin.
Travel Tip: To capture the real beauty of Bryggen, visit the place at the golden hour. This will allow you to take some amazing shots of the radiant houses glistening under the sun.
With it's an incredible mix of urban cities and majestic fjords, Norway has the most incredible scenic attractions in the world. More so, the picture perfect breath-taking landscapes are sure to leave you spell-bound. So, plan your trip to Norway and give yourself the chance to absorb its beauty.