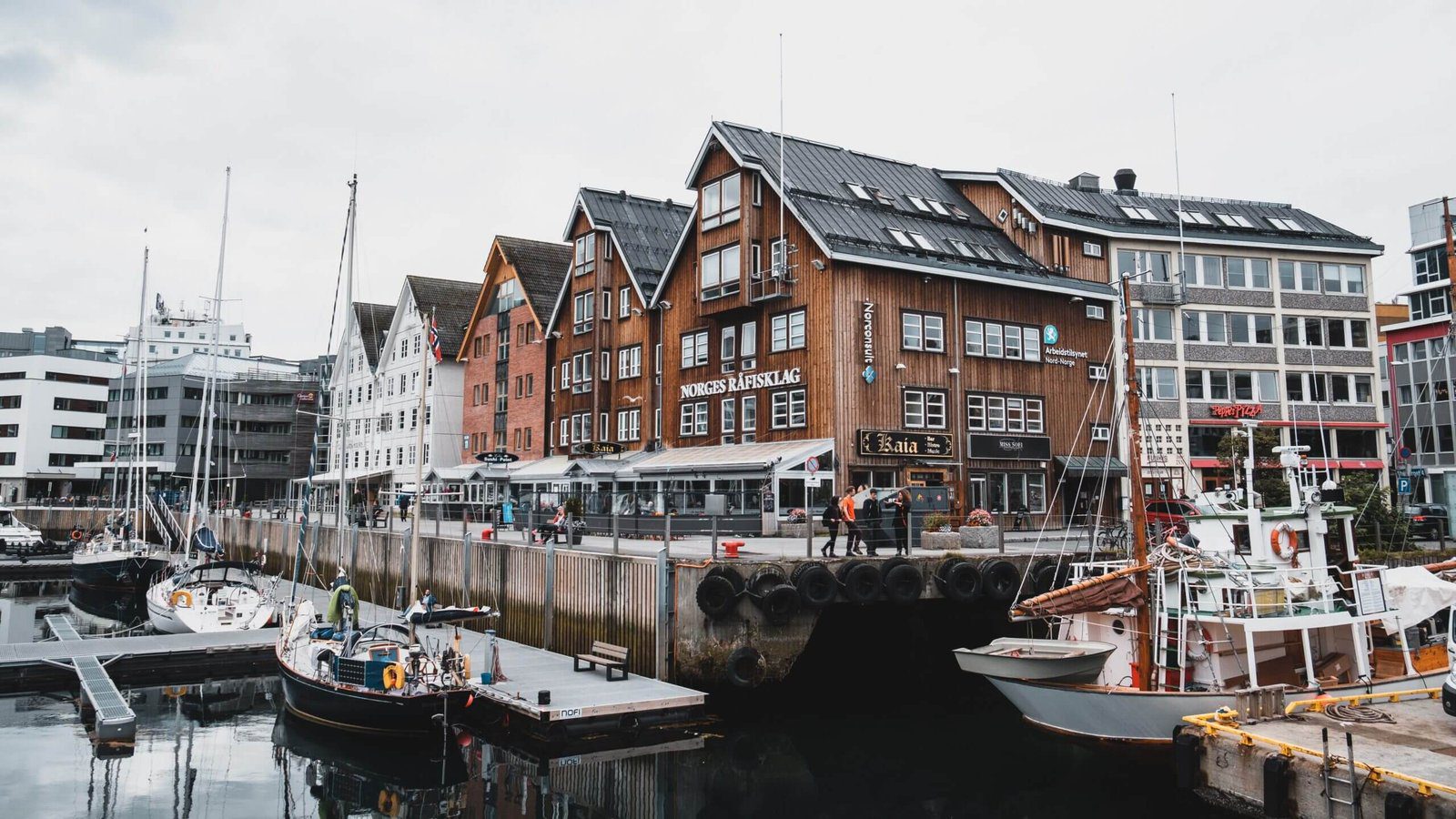 Norway's grand gateway to the artic, Tromsø is a busy tourist destination. Famous for its dancing aurora sky and the astonishing midnight sun, this Artic city is thus, must to visit. This is why with a mild temperature range and an overwhelming list of activities to do, tourists definitely spend time in Tromsø. Therefore, it offers some great accommodation options catering to all budget brackets.
In this guide, we will help you figure out where to stay in Tromsø if you find yourself lost in the plethora of available options. The guide explores the 3 best places to stay in Tromsø along with the best hotels in each area. We have created this list to make the process swift for you. Thus, giving you a one-stop solution for hunting the best places to stay in Tromsø.
1. Tromsoya – the best places to stay in Tromsø for first-timers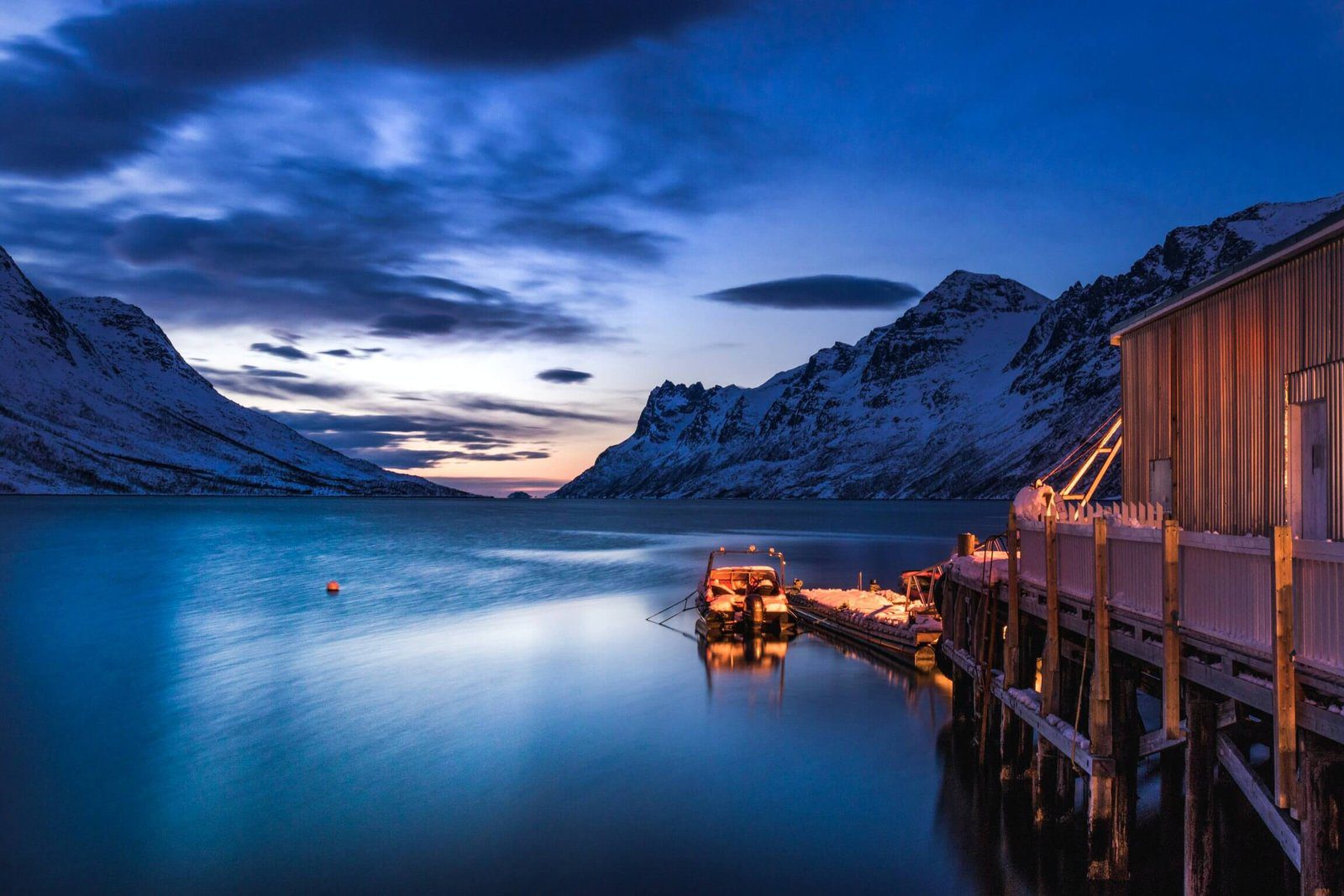 Tromsoya is known as one of the best areas to stay in Tromsø. It is the main island and thus has a number of restaurants, shops, and museums at a convenient distance. Additionally, it also gives you easy access to some of the most popular tourist attractions in Tromsø. And above all, Tromsoya is a few minutes away from the best places to view the northern lights. Of course, you wouldn't want to miss out leave Tromsø without experiencing the mesmerizing northern lights.
Moreover, Tromsoya is observed as the ideal place to stay outside the main city of Tromsø. And so, there are plenty of accommodation options in Tromsoya for you to decide where to stay in Tromsø.
And some of the best places to stay in Tromsø are located near the harbor area.  Reason being, the innumerable options for tour activities available. These accommodations not only offer a comfortable stay but glorify your experience with amazing views of the waterfront. And above all, the Artic cathedral adds to the beauty.
Both areas offer convenient options to stay in Tromsø, but the harbor area takes the lead with its modern architecture and great views. Although it is slightly at the pricier side but totally worth the stay. So, if you are looking forward to spending for the views, here are some of the best hotel choices to stay in Tromsoya,
Budget-Friendly Hotels in Tromsoya
Tromsø Bed, and Books is acknowledged by tourists as a pleasant B&B option in Tromsø. All rooms come with a shared kitchen and bathroom facility. Additionally, you can also access the lounge and laundry area. A wide range of activities can be enjoyed in the surroundings, including fishing. The property also offers free parking. Above all, the Polaria Museum is only 10 mins away.
Other facilities include:
Free Wi-Fi
Free Parking
Terrace
Heating
Other budget-friendly hotels in Tromsoya include,
Smarthotel Tromso
Comfort Hotel Xpress Tromso
Mid-range Hotels in Tromsoya
This 4-star waterfront hotel overlooks the Tromsdalstinden Mountain, offering a majestic view of the harbor. Thus, qualifying it as one of the best hotels in Tromsø.
Most people often perceive it to be extremely expensive at first glance. But in the price, you pay, you get a free organic breakfast buffet, coffee, tea, and fruits throughout the day. And an evening meal in the dining area.
However, the only downside is that this hotel is preferably suited for solo travelers or couples because of the room sizes. So, if you are a big family coming over to spend a holiday in Norway, this hotel might not be the best choice.
Other free facilities include
Wi-Fi
Parking Area,
Roof-top sauna,
Fitness Center
Facilities for disabled guests.
Other mid-range hotels include,
Skansen Hotell
Clarion Collection Hotel Aurora
Enter Amalie Hotel
Family-Friendly Hotels in Tromsoya
One of the most popular hotels in Tromsø is the Radisson Blu Hotel. With a picture-perfect central location at the harbor, this hotel offers cozy family rooms and free gym and sauna facilities. It is located in the area's most scenic nightlife district. Thus, making it one of the most well-loved places to stay in Tromsø amongst tourists. This charming hotel offers a variety of amenities to its guests. These include,
Express check-in and check-out
Airport transfers
Laundry and Dry Cleaning Services
Complimentary Breakfast Buffet and Dinner
The best part about Radisson Blu Hotel is its option for connected rooms to accommodate big families. This is why it qualifies as a wise option for family-friendly hotels in Tromsø.
Other family-friendly hotels in Tromsoya,
Thon Hotel Polar Tromso
Enter Viking Hotel
Affordable Luxury Hotel in Tromsoya
Falling under the category of affordable luxury hotels in Tromsø, the Scandic Ishavshotel is surrounded by water from three sides. Therefore, no other hotel in Tromsø can compete with the view, comfort, and scenic location of this hotel.
With a wide range of room types, Scandic Ishavshotel has both rooms with a reasonable value and luxury suites. However, the affordability factor depends on what time of the year are you traveling. Quite often, low tier rooms are affordable as some mid-range range hotels in Tromsø. The facilities include,
Airport Shuttle
Free Wi-Fi
Parking
Breakfast Buffet
For tourists traveling with pets, here's good news for you, pets are also allowed in the hotel premises!
2. Downtown Tromsø – the best places to stay in Tromsø for nightlife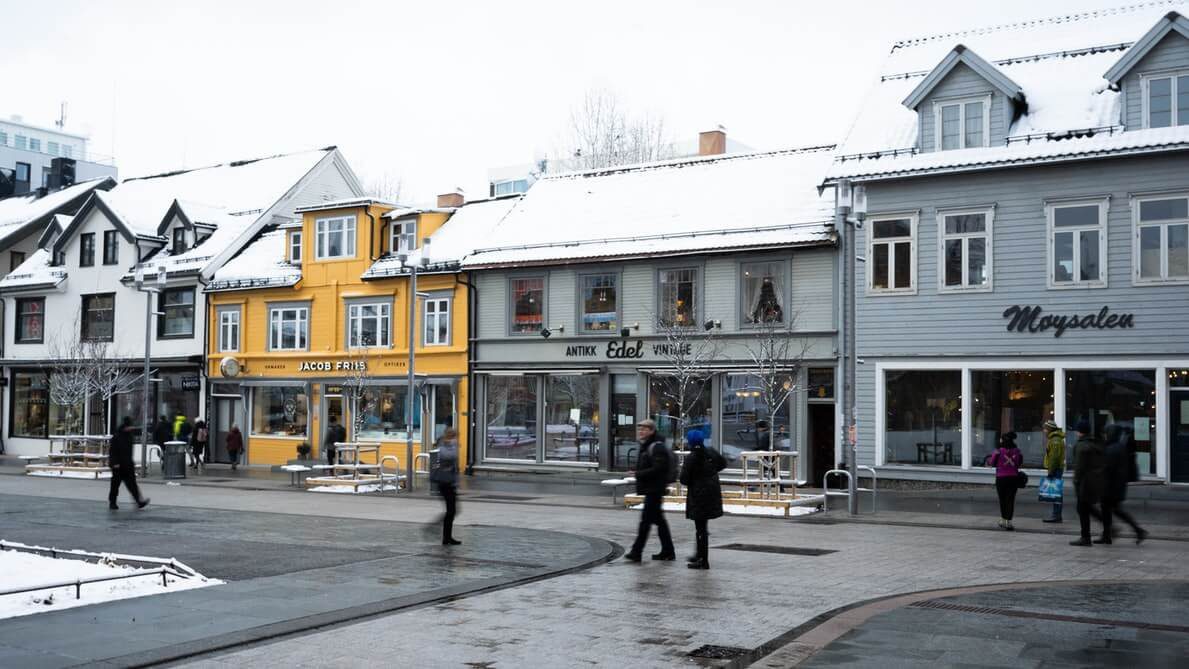 On our list of best places to stay in Tromsø, next comes the area of  Downtown Tromsø. It is a smaller part of Tromsoya but with an abundance of places to stay. Above all, most hotels are within walking distance from the famous street of Storgata. This street runs through the city center of Tromsø and is home to some of the best places shopping stores. And not to forget, your tummy cravings will also be settled at some of the finest dining options on the street.
What makes Downtown Tromsø one of the best places to stay in Tromsø is the fact that many day trips depart from here. Thus, making it a central location for all Tromsø tours and activities.
Budget Hotel in Downtown Tromso
Comfort Hotel Xpress Tromso
Comfort Hotel Xpress comes under the category of budget-friendly places to stay in Tromso. This hotel is located at Grønnegata street, a convenient and comfortable accommodation adjacent to the city's main Storgata street. Thus, lending it plus points for an excellent location.
The hotel rooms are clean and fresh with slight modern aesthetics. However, size-wise they are comparatively small. But being the cheapest hotel in Tromso, this is the best you can get. Moreover, if you are traveling throughout the day, a compact room won't really be a problem. Additionally, each room has an attached bathroom. Thus, saving you from the hassle of shared bathroom facilities.
The hotel room cleaning service cleans the room every four days. So, to get your room cleaned every day you will be charged an additional amount. This often translates as a drawback for this hotel. But to neutralize the disadvantage, there is an added benefit to your stay at Comfort Hotel Xpress. And that is that you get to enjoy an excellent buffet breakfast at their sister hotel, Clarion Hotel, that too at a 50% discount.
Other facilities include, 
Free Wi-Fi
Parking
Pets allowed
Heated floors
24/7 Lobby Shop
Breakfast items can be bought at the lobby shop.
Bar
Other budget-friendly hotels in Tromso, 
Smarthotel Tromso
Enter Amalie Hotel
Mid-range Hotels in Downtown Tromso 
Thon Hotel Polar sits in an ideal central location in downtown Tromso. It is close to almost everything the city has to offer.  And thus, it celebrates this strategic location as one of the most preferred places to stay in Tromso.
From complimentary Wi-Fi access to a modern on-site gym facility, this hotel offers all the staples you look for in accommodation when traveling. The rooms are equipped with hairdryer, satellite TV channels, and dry clean service. Additionally, each private bathroom comes with a bath-tub or a shower.
Breakfast is also served regularly with a wide range of hot and cold dishes to choose from. Organic meals are also available on request. Above all, the area surrounding Thon Hotel Polar is best-known for its nightlife. And so, you get to immerse in the night culture of Tromso as well.
Other mid-range hotels in Downtown Tromso include, 
Scandic Grand Tromso
Enter City Hotel
Clarion Hotel The Edge
3. Tromsdalen – the best place to stay in Tromsø in a budget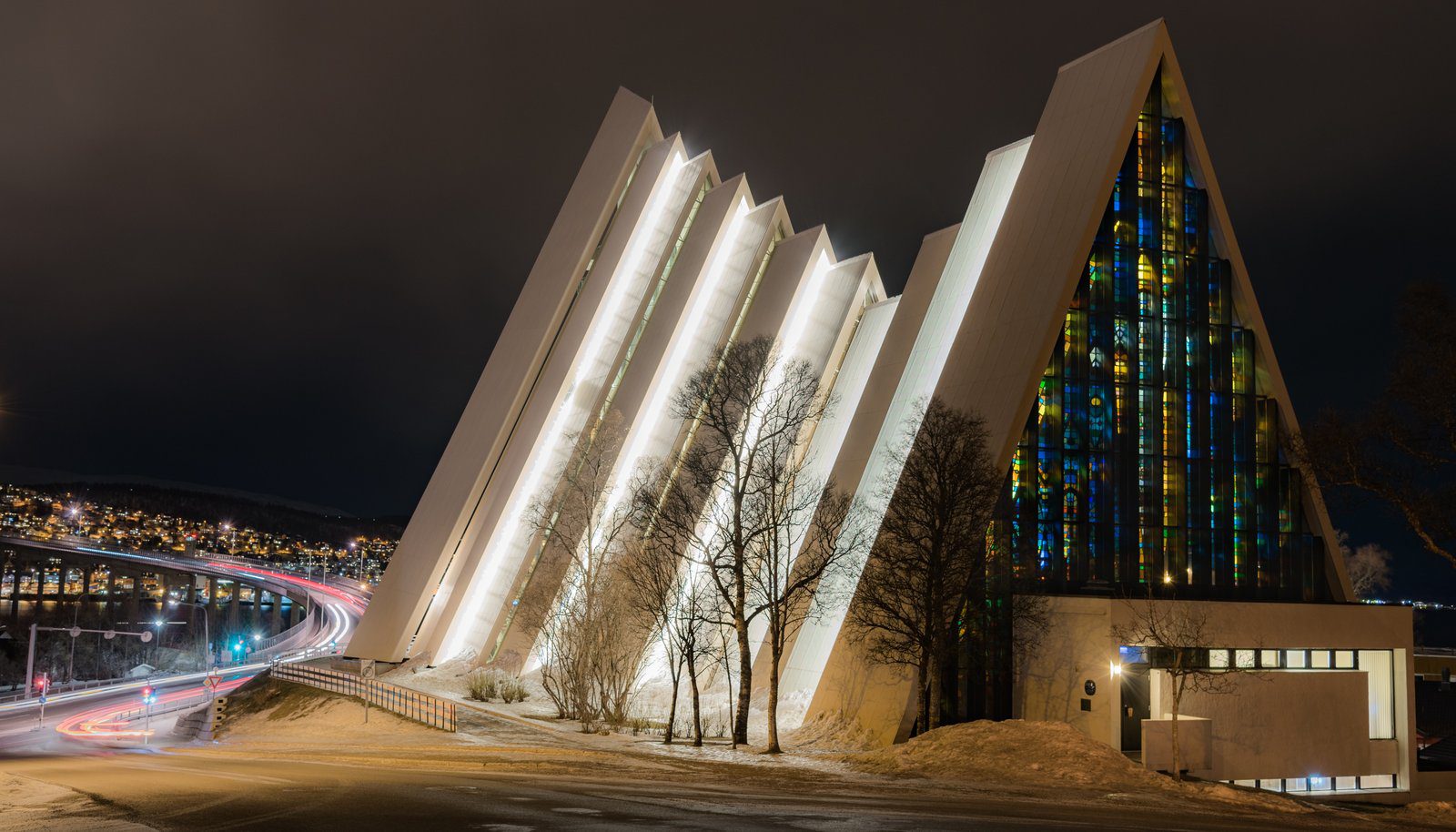 Across the Tromsø harbor is the mainland area, namely Tromsdalen. It is only a 15-minute walk over the bridge from downtown Tromsø. You will find a few accommodation options here with the ease of being a few steps away from the city center. And not to forget, this place is where the famous Arctic Cathedral, one of the most scenic attractions in Norway resides.
For tourists looking for calmer places to stay in Tromsø, Tromsdalen is the best option. That is to say, that you will mostly find private homes in this area. From Tromsdalen, you can also take the cable car up Floya Mountain, or visit the Tromso Alpine Center for a day of skiing.
Best Mid-range Hotel in Tromsdalen 
Tromso Lodge and Camping is the best place to stay in Tromsdalen. Among all other high-priced options, this one offers the best services without putting you off-track with the budget. Therefore, it makes a great choice for all travelers. It is located by the Tromsdal River and is only 5 minutes away from downtown Tromso.
The cozy modern cottages with a modern edge are sure to add comfort to your traveling routine. The cabins have either shared or private bathrooms, depending on the cabin you book. Moreover, there is the main kitchen in the building that is open to everyone.
Other facilities include,
Free Wi-Fi
Sauna
Bar
Football field by the camping site
BBQ
Skiing
Other accommodation options in Tromsdalen include, 
Tromso City Apartments
Breathtaking Panoramic View Apartment
Tromsø is finding its way up through the list of best tourist destinations in Norway. Although it is famous for the dancing northern lights, outdoor activities like dog sledding and skiing have also contributed to its popularity. This is why there is an abundance of accommodation options such as complimentary breakfast buffet included to help you decide where to stay. So, be sure to iterate through the best-suited places to stay in Tromsø and make an informed decision when finalizing your accommodation.