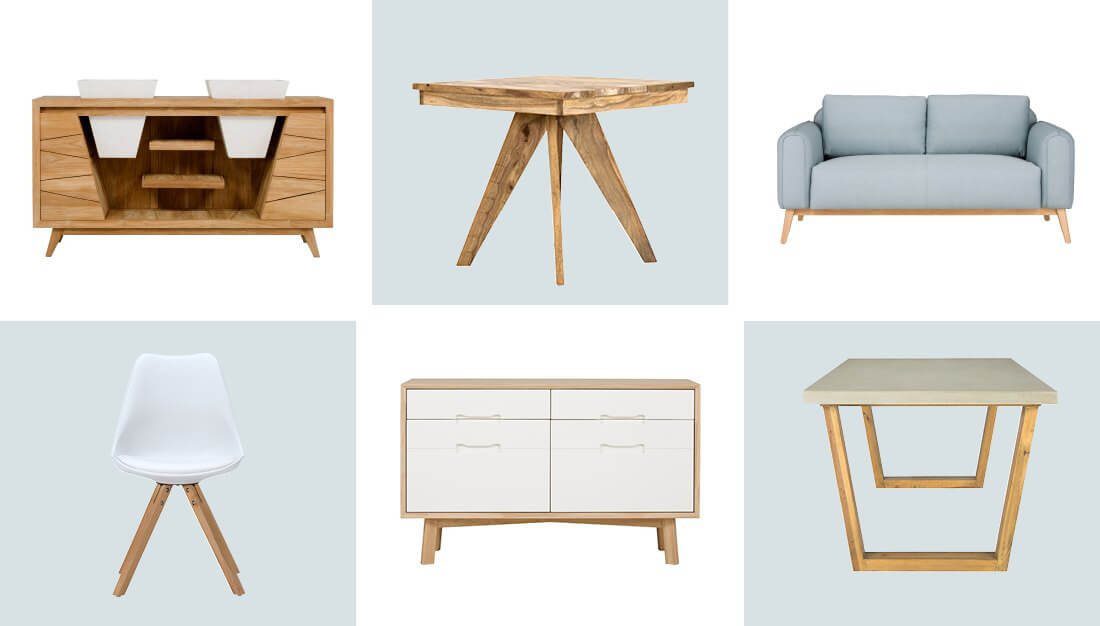 Scandinavian furniture is one of the most popular designs in the beautiful world of furniture these days. This is best seen in the phenomenal worldwide success of the well-known Swedish furniture store with the blue and yellow colors. The roots of this design lie in the far north and success has gradually invited itself into our interiors.
Origins of Scandinavian furniture
The countries of origin of Scandinavian furniture
Scandinavia is an often ill-defined part of Europe. Actually only Denmark, Sweden and Norway belong in the truest sense of the word, but Finland and Iceland as well as the Faroe Islands are often included for historical and cultural reasons. Scandinavian furniture comes mainly from Norway, Sweden, Denmark and Finland . There has been a true design cult in these countries for many decades. But characteristic pieces of furniture also come from Norway and Iceland. Even if there are clear similarities, there are clear differences between the designs of the different countries.
Scandinavian furniture and its philosophy
Scandinavian furniture impresses not only with its incredibly sophisticated aesthetics , but also convey a very special attitude to life that is closely linked to the Scandinavian environment. Scandinavian furniture combines the terms functionality, simplicity and beauty . In an atmosphere shaped by the Lutheran reform and the cold, barren landscape, the home has always been a place of warmth in which simplicity and use of the directly available building materials are the basic elements. Scandinavian furniture is the result of a long tradition that has been modernized and spread worldwide.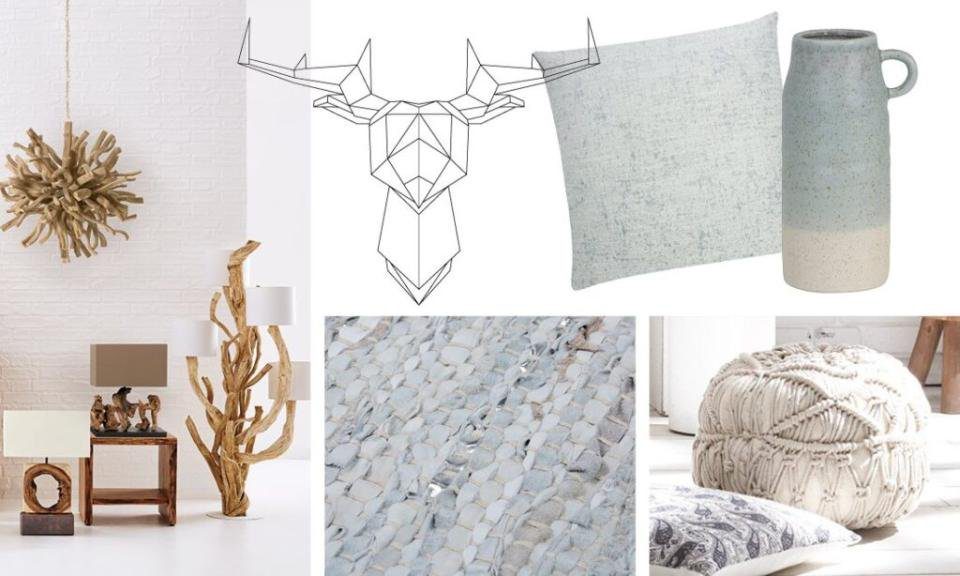 Characteristics of Scandinavian furniture
Scandinavian furniture and its materials
With Scandinavian furniture, there is a particularly central and simply unavoidable material: wood. The untouched and wild landscapes of Scandinavia offer high quality wood that is generously used in all kinds of furniture. Noble solid wood is used almost exclusively. The wood is often connected to metal structures in armchairs, for example. Beautiful leather cannot be missing from such pieces of furniture. With sofas you can often find upholstered furniture made of elegant fabric. Linen and ceramics are often used in lights and decorative accessories.
The colors of the Nordic furniture
The color scheme of the Scandinavian interiors seems to be a reflection of the outside world . The dominant colors of Scandinavian furniture are on the one hand the natural colors of the wood used, on the other hand different shades of white. The latter are often associated with specific colors, with pastel colors being preferred. The combination of these tones results in particularly tasteful furniture. A modern Scandinavian sofa can be a central Nordic design element in the living room. Scandinavian furniture has brightness of colors as a central element, probably to bring the light that is lacking outside during the winter months into the cozy interiors.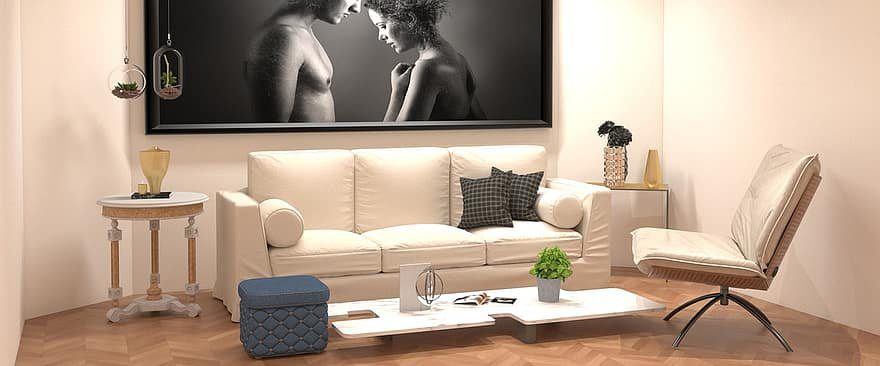 Examples of Nordic furniture
Scandinavian lights
Luminaires are not only indispensable as a light source, but are a central element of interiors in Scandinavian style . Scandinavian designers have created particularly original lights that are now considered classics. As with Nordic furniture in general, wood is also found in lights. The wooden structure is often combined with lampshades made of fine fabric. The beautiful curved shapes of floor lamps give a living room in Scandinavian vintage style a special eye-catcher. Scandinavian lights are often minimalist and impress with their simplicity.
Nordic seating
Scandinavian design seating offers a wide range of furniture pieces that, despite the differences, have constant characteristics. You can find sophisticated armchairs that combine solid wood with high-quality fabric in discrete colors. You can also see vintage armchairs made exclusively of beautiful fabric. Of course, you can also find elegant leather armchairs that can be combined with the matching leather sofas to create a living room in retro style . Tasteful chairs and vintage benches go perfectly with a minimalist Scandinavian dining table in Nordic design , where you can sitenjoy nice Sunday lunches with family and friends, especially when it's snowing and cold outside and it can't be any better than at home !
Arne Jacobsen's armchairs, for example, the Egg armchair, are also known. And a legitimate successor is Studio Copenhagen. The company supplies wonderful armchairs and seating. But also other furniture in this unmistakable style.
It's not for nothing that Scandinavian furniture is becoming increasingly popular. They combine form, color and function in an almost ideal way. So the 3 cornerstones of modern and convincing furniture design.
Basically, the Scandinavians prefer to be practical and functional. It is precisely these properties that characterize Scandinavian design and Scandinavian furniture.
It goes without saying that furniture design is not just about looks . And that such quality in the furniture sector also justifies a higher price should also be clear.
But you get furniture of the highest quality that not only looks good, but is also practical. Scandinavian furniture!
Lounge chair in Scandinavian style
A beautiful Scandinavian armchair in a typical style. Round, soft shapes characterize this armchair. Of course there is also a stool. The legs should be stored high.
The armchair is available in different fabric variants and also, I find it particularly beautiful, in leather. The price for such high quality furniture is not excessive. I've seen the armchair for 670 euros. The leather version for around 1000 euros. All prices include delivery!
Scandinavian armchair for pleasant hours
Garbo is also in the classic Scandinavian style .
Comfortable, practical and timeless.
An armchair that you simply have to use. Which you have to "occupy". Ideal for loooong winter evenings. Be it with a nice book or in front of the TV set!
I found this wonderful armchair for around 850 euros. And another tip, if you want to buy the armchair, don't forget to order the stool with it. You will not regret it!
COMPLETE DINING ROOM IN SCANDINAVIAN STYLE
There are also always offers from furniture shops to order complete furnishings in one style. Usually, these offers are cheaper than the individual parts. That is why it is worth paying attention to such offers! Here, for example, a complete dining room in Scandinavian style.
Of course, you don't have to purchase this dining room completely as it was put together. All furniture is also available individually. It's just meant to show how beautiful you can live with Scandinavian furniture.
It is always astonishing with which reduced minimalist furniture design you can create such beautiful living environments. A wonderful living idea for your very own dining room.
And the price? Scandinavian furniture design doesn't have to be expensive. Of course, furniture design classics have their price, you can't get away with a few thousand euros per chair.
New, fresh design from Scandinavia is also much cheaper to get. All in all, you can get this beautiful dining room for around 2500 euros. It's very cheap. Or don't you think so?
A very affordable price and a beautiful dining room that will appeal to young families in particular.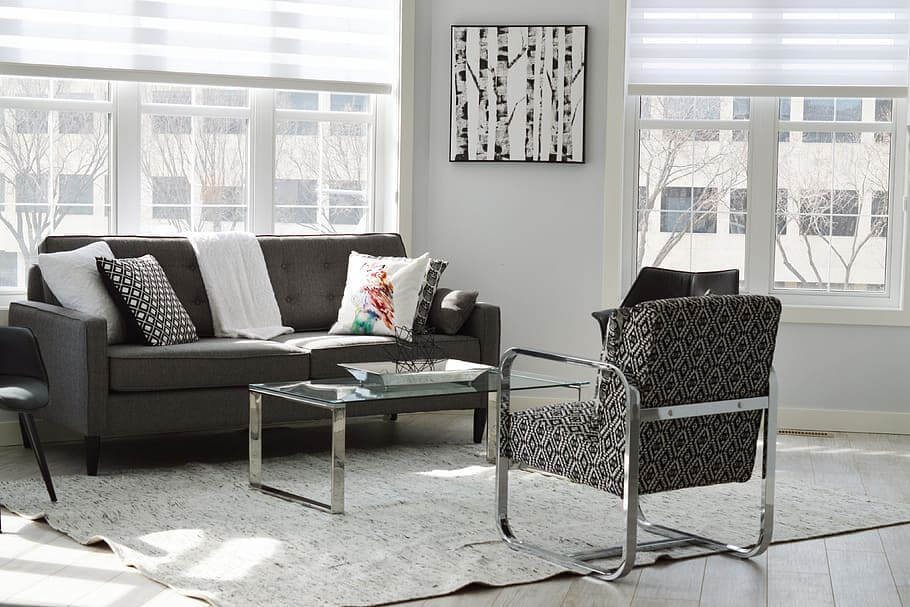 Scandinavian living ideas that beautify your home
Living styles on the rise
Of the many different styles of living that have developed over the past few decades, some have become very popular. Living ideas in the categories Shabby Chic, Vintage Style, Industrial Design and Scandinavian Design are very popular; not only with us but also in numerous other countries. When you are spoiled for choice, it depends entirely on your individual taste. Pick a style not just because it's popular, but because you really like it. On our website, you will find numerous ideas for living in the styles mentioned, which you can take advantage of with the help of the exquisite photos.
The popular Scandinavian style
Scandinavian furniture, with its unique Scandinavian style, has its origins in Denmark, Norway, Sweden and Finland. The design developed in the 50s and is characteristic of simplicity, minimalism and functionality. During its developmental period, the Scandinavian concept was discussed extensively in academic debates, at exhibitions and in marketing agendas. Despite new emerging trends, the Scandinavian basic ideals continue to assert themselves internationally as living ideas and are slowly proving to be a timeless signature. This is how a beautiful retro table can become a central piece of Scandinavian furniture. With Scandinavian living ideas, you can never go wrong and you can easily find a facility that is both established and contemporary.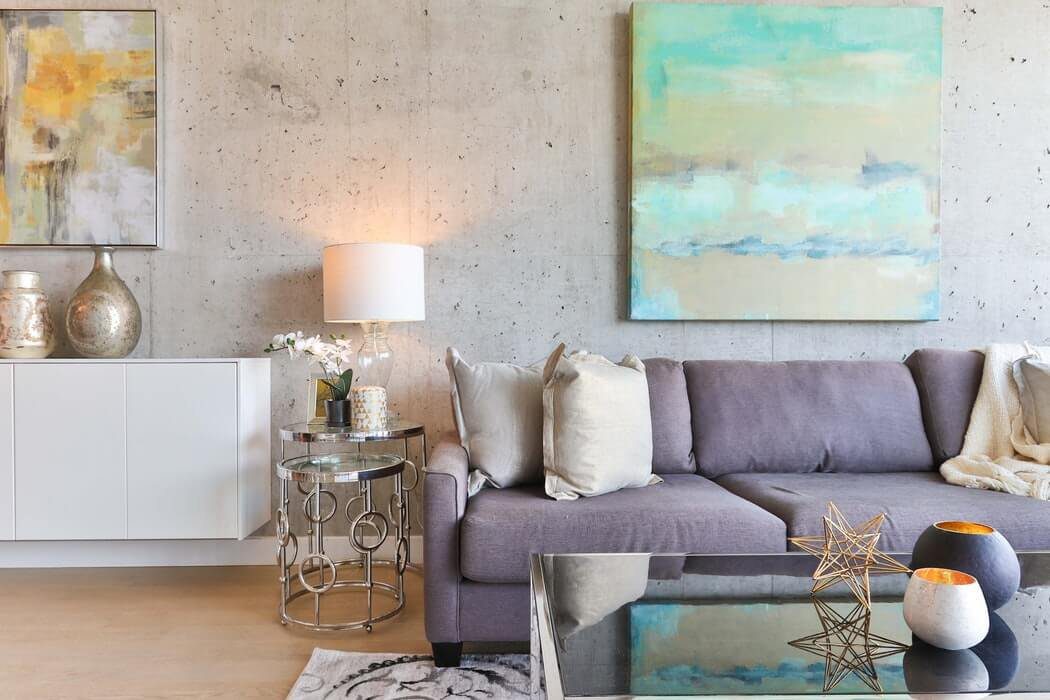 Let your creativity take over your mind and body
How you can live more beautifully with yourself
Your creativity is required to put your living ideas into practice . If your alarm bells ring, don't worry. You too have the talent to set up. Sit back and relax, close your eyes and imagine your perfectly furnished home. Would you like to live more beautifully with Scandinavian design? Then take a mental walk through the streets of a Scandinavian place you love. Look into the windows of the beautifully furnished houses and let Scandinavian living ideas and Scandinavian furniture inspire you . Are you now laden with interior design ideas? Then browse through our selected product list right away!
Elements that enable beautiful living
There are a wide variety of elements that you can use for your home ideas. Put together your own individual constellation. Furniture in a wide variety of categories, such as tables, chests of drawers and chairs, can easily be acquired in the Scandinavian style. The light objects also play a role here. Lights in the bedroom can be combined well with an aesthetic retro bedside table . From hanging lamps to floor lamps, you can find everything in Nordic design. The integration of accessories as the icing on the cake of your living ideascharacterizes your individual taste. Bowls, mirrors, picture frames and pillows give your interior that certain something. Your Scandinavian choice is underlined even more with more unusual elements, such as a sheepskin, a coat stand tablet or pink wallpaper.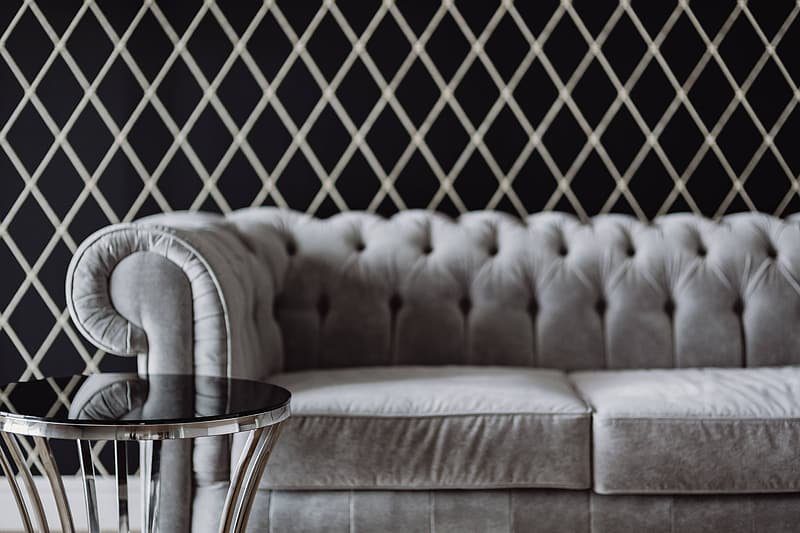 Do you need Scandinavian furnishing ideas?
How to curtail your living room
This is the room you spend most of your time with your family and loved ones. The interior should be cozy and inviting and create an atmosphere that is stimulating for entertainment. There are Scandinavian interior design ideas for all traditional elements of the living room. Sit on a leather sofa and place your aperitif on a white, three-legged and classic coffee table Scandinavian with a retro flairfrom. Look to the left at a minimalist wooden bookcase, then look over your right shoulder at a couple of side wall shelves with a simple white lamp. Last but not least, the TV furniture, which is kept in typical Scandinavian style, attracts your attention.
Ideas for the bedroom
In contrast to the living room into which you invite your guests, the bedroom is your very own private space . Here you want to completely relax and restcan. Warm, pleasant light that gently sneaks into your eyes from a simple white table lamp puts you in the right mood. Your water for the night is waiting for you in a discreet porcelain mug on a typical Scandinavian side table. A simple white armchair with a stool for your tired feet invites you to an evening reading hour. Finally, look forward to your well-deserved sleep with soft pillows. The list of furnishing ideas for your Nordic bedroom is long and there are no limits to your creativity.
Scandinavian design furniture and its characteristics
Textile creations in Scandinavian design
How the climate influences the materials
Scandinavian furniture and its textiles have been a basic decorative element in Scandinavian countries since Scandinavian design emerged . Due to the harsh climate, people in the Scandinavian countries like to warm up the atmosphere with heavy fabrics on walls, floors and wooden furniture. Folklore occupies an important place in the Scandinavian region, recognizable by the traditional costumes woven and decorated with embroidery. The way in which the fabrics are combined with each other and the know-how in processing are undoubtedly one of the reasons for the development of Scandinavian design.
Scandinavian design and its patterns and colors
Thanks to their aesthetic sense, Scandinavian countries design elegant fabrics adorned with patterns that demonstrate their closeness to nature . The colors used are also reminiscent of nature, such as copper, ocher or gray. These often poetic fabrics fit perfectly into purist interiors in the style of Scandinavian design. With the massive arrival of pop culture in the 1950s, fabrics now have to be manufactured industrially. Scandinavian design is evolvingAnd with it also the fabrics that are colorful and radiant today and express the desire for dynamism in Nordic interiors. The motifs are still flowery but more stylized, and there are now abstract graphic motifs with strong colors that can also be found on walls and at the table. This style can also be found in Nordic style cupboards: And a Scandinavian retro cupboard is a central piece of furniture in a room with a Scandinavian interior design.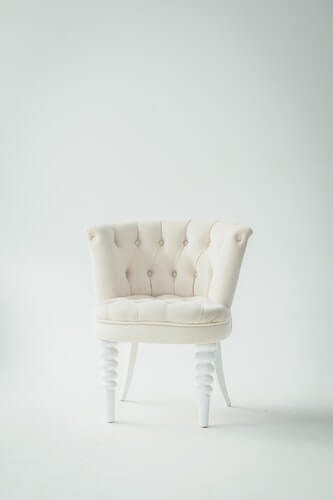 Glass and ceramics in Scandinavian Furniture
Mother nature as inspiration
Glass and ceramic items are also initially only made with natural materials from the area in family workshops. These are everyday objects that are used at the table, in the kitchen or at the water points and shape Scandinavian design as an image . In the 20th century, people mainly work with traditional motifs from nature and combine them with the avant-garde trends of the then very modern Art Nouveau to create Scandinavian furniture. Here, too, the motifs are reminiscent of nature, the focus of Scandinavian design, and the colors used are in line with the general trend in interiors, where a lot of ocher, brown or green is used.
Smooth and puristic lines
Glassblowers, ceramic studios and pottery workshops work with numerous Nordic designers. As a result, Scandinavian design is developing a lot as a decoration . At the beginning of the 20th century, due to the influence of Art Deco, the focus was on puristic and smooth lines, and Scandinavian design made a name for itself all over Europe. Big brands now offer their Scandinavian-made articles (dishes, vases, etc.) worldwide. Thanks to the innovative ideas of Scandinavian designers, they can join any trend, for example the pop movement in the mid-20th century. With freshness and an undeniable elegance , they combine colorful and fresh patterns with curved and graceful shapes .
The Scandinavian style of living has long enjoyed great popularity in our part of the world since the 1950s. It is worth knowing that there are regional differences in Scandinavian furnishings . Even if the basic characteristic of Nordic lightness remains the same, the Norwegian, Swedish and Danish styles each have their own coloring.
SCANDINAVIAN LIVING STYLE FEATURES & DIFFERENCES
The Norwegian design language is the most sober compared to its Nordic neighbors and is characterized by a particularly minimalist aesthetic. Swedish design is much more style-conscious with a tendency towards more decoration and the use of lighter colors and pastel tones. The special feature of Danish is expressed in the hygge style, which relates to comfort, warmth and cosiness. The Danish style can be interpreted a bit more comfortably. These differences are particularly reflected in Scandinavian furniture.
The Scandinavian style of living is characterized by a puristic ambience , which is not uncomfortable. Typical sofas in Nordic style are filigree and stand on delicate wooden feet. Covers in light pastel tones or earthy colors are important for armchairs and other upholstered furniture . Chests of drawers and wardrobes have a simple appearance, are also brightly painted or have a pure wood look. The Scandi look is also quite modern. In the case of coffee tables, for example, solid wood is combined with straight metal feet, and the Scandinavian-style bed has a minimalist elegance without any adornments.
SCANDINAVIAN DECOR AESTHETICS & DESIGN LANGUAGE
In addition to typical Scandinavian furniture, home accessories also play a role. If you want to implement the Nordic style, you should pay attention to the right lighting : lamps and lights have a special place in Scandinavia and should not be used too sparingly. The design language can also be a little more extravagant in contrast to the furniture. Spacious arc lamps and lights with wooden elements are just the thing for furnishing the apartment in the Scandinavian style.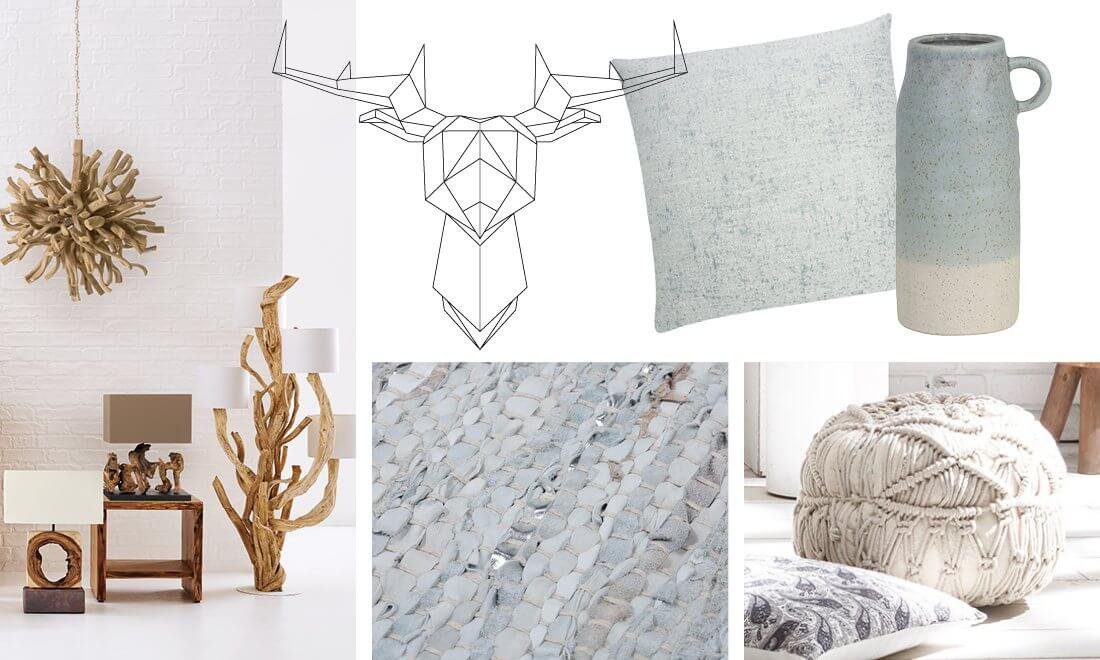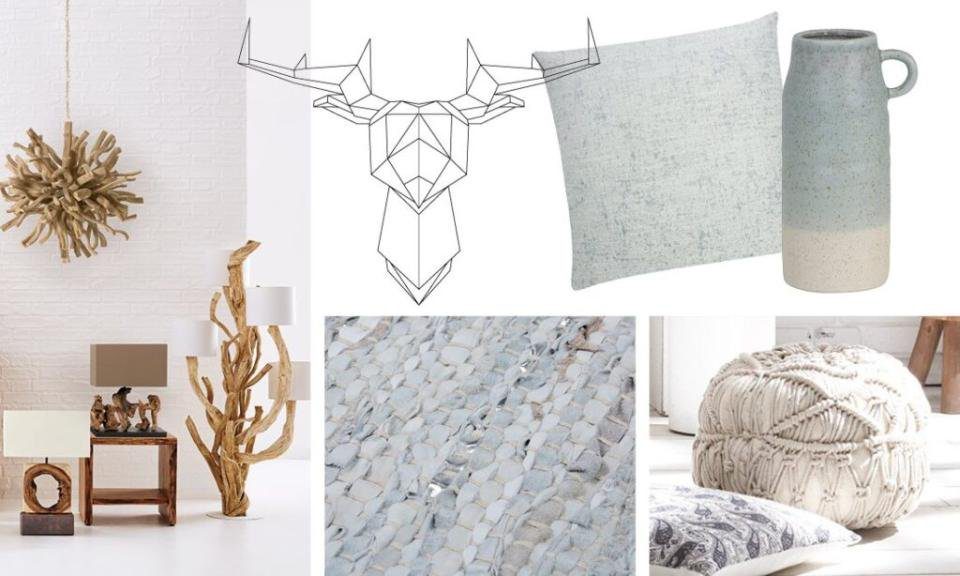 SCANDI LOOK WITH SUBTLE LIVING COLORS
Know where the eye can see – the Scandinavians like things bright and clean. So they defy the long cold winters and give your living spaces maximum brightness and warmth . Scandinavian living reflects on restrained color tones and pleasant visual clarity.
In addition, natural and pastel tones are used. Whether light sand tones, a cool pigeon blue or a subtle rose – in combination with the light woods, this creates an extremely homely atmosphere. Bright or bright colors are only very accentuated, but then used over a large area – this is how the timeless, elegant sofa in petrol becomes an eye-catcher in front of an otherwise reserved backdrop.
Wood- paneled walls are also typical of the Scandinavian style of living – either made of natural, light-colored woods or painted or glazed white so that as much light is reflected as possible.
SCANDINAVIAN LIVING WITH MATCHING ACCESSORIES
The shape of Scandinavian furniture follows its function. This principle is also applied to the design of the home accessories . Objects of daily use are unobtrusive, practical and, above all, durable.
Transparent carafes, glasses and vases set elegant accents on the set table, while porcelain tends to use a colorful and cheerful design language that uses different patterns and decorations.
An absolute must for fans of Skandi-Chics are candles, lanterns and lanterns. So in Scandinavia you defy the long dark evenings and bring cosiness into the rooms. But decorative elements that you have collected yourself, such as delicate branches with berries or small pine cones, convey a sense of being down to earth. Particularly elegant: a few delicate meadow flowers from the last walk, freely arranged in small glass vases.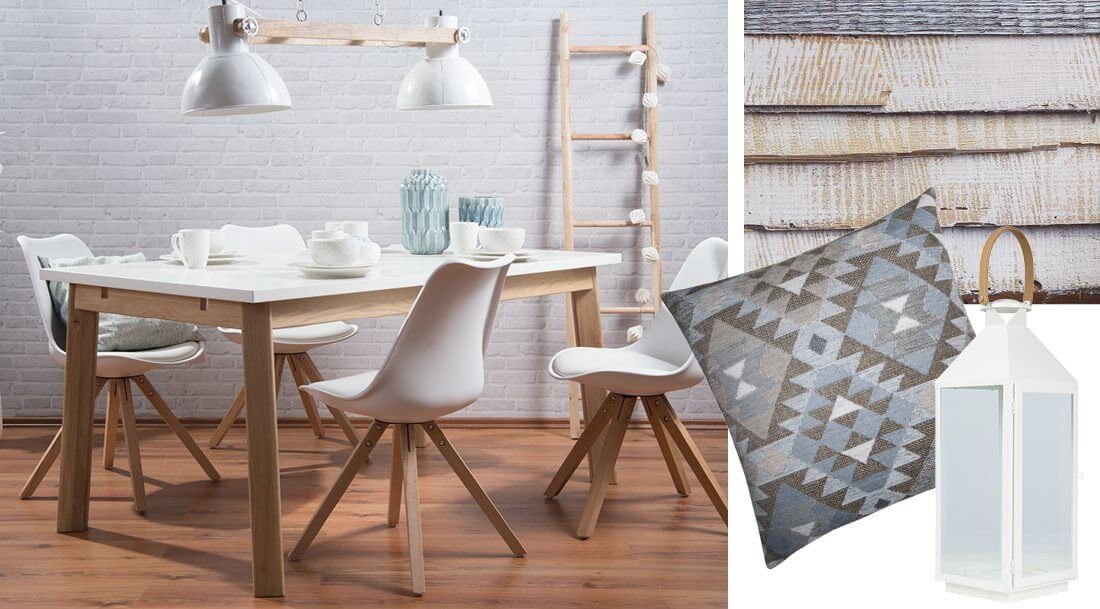 HOME TEXTILES IN SCANDINAVIAN STYLE FURNITURE
The Scandinavians' love for nature is also evident when choosing the right home textiles . Materials and handcraft are particularly popular. Hand-tufted carpets, coarse-meshed woolen blankets and pillow cases, sheepskins and cuddly soft plaids made of cotton, linen or felt not only warm cold feet, but also the soul.
Patterned textiles also match the Scandinavian living style and bring liveliness to the room. Stripes, diamonds or large dots are represented in black and white as well as in different pastel tones.
Typically Nordic : Colorful textiles with lovingly illustrated prints of twigs, leaves, flowers and native forest animals such as deer or foxes.
SCANDINAVIAN FURNITURE – MADE OF WOOD, OF COURSE
Are you longing for a simple and functional design? For a practical and straightforward setup? For shapes inspired by nature and a certain calm? Then Scandinavian furniture is right for you. Light furniture made from local types of wood such as spruce, birch, ash or pine usually characterize the picture, but teak is also often used.
Whether natural or glazed white – the visible grain and the existing knotholes ensure a natural look and convey timeless charm. Sofas, armchairs and chairs are covered with fabrics in white, gray, anthracite or delicate pastel tones. The same applies to the cozy upholstered beds in the bedroom.
In massivum's online shop you will find a variety of Scandinavian-inspired furniture and accessories that you can conveniently order online.
The Scandinavian living style is currently one of the most popular furnishing styles in this country. Reduced, minimalist , modern and flexible, it fits perfectly with the urban lifestyle of German city dwellers. Scandinavian design quotes nature at every nook and cranny using organic shapes and the materials wood, fur and wool. Living Scandinavian means living simply, comfortably, individually and sustainably. Because this doesn't only fit in big cities, the popularity of Scandinavian design is also growing beyond the city limits. On this page we explain how the Scandinavian living style works and which furniture and living accessories are best used for Scandinavian furnishing.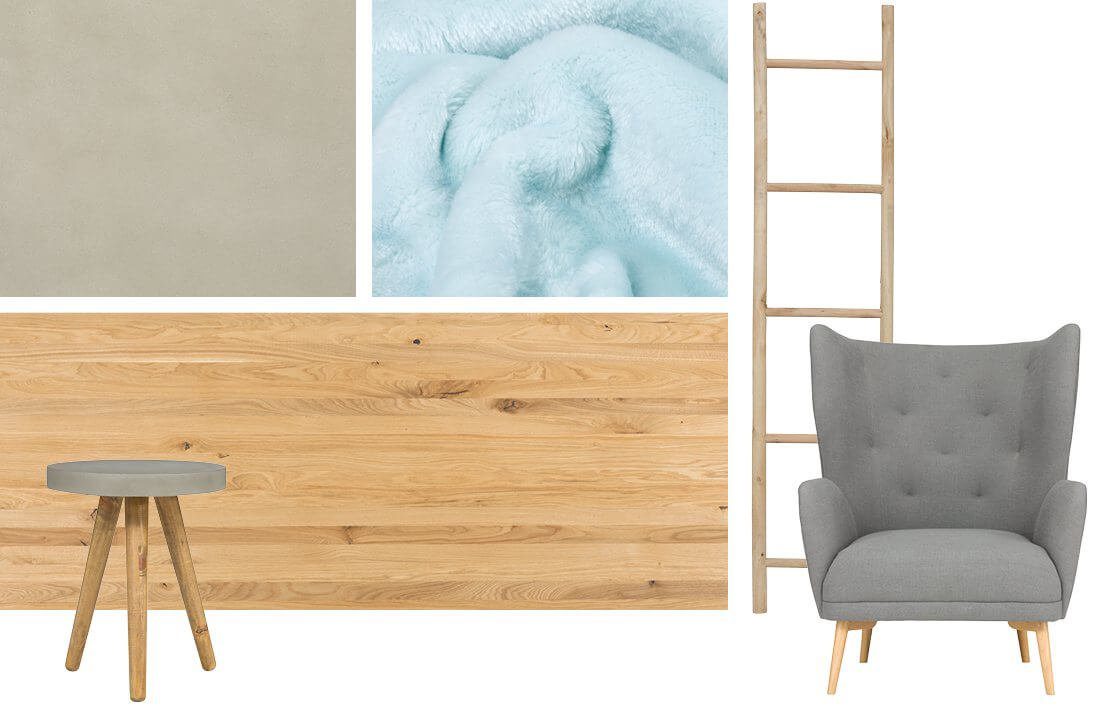 Scandinavian design furniture: lots of white and light sources
In the north, people like to furnish themselves with fresh colors; preferably with a lot of white to counteract the darkness. Because the winters in Scandinavia are longer and darker, (artificial) light plays a major role in the home. The aim is to capture the sun's rays through the architecture and to intensify them with white and light living colors. Lamps and candles are harmonious sources of light that create a feel-good atmosphere. A light classic is, for example, the leafy pendant lamp Norm 69 by Simon Karkov. The carefully created spaces make it a source of warm light that pleasantly illuminates every room.
Scandinavian furniture design: inspiration from nature
Nature is also a great model for Scandinavian design, as forests, rivers, fjords and lakes determine large parts of the region. Local woods as materials, but also organic forms are therefore preferred by the Scandinavians: In combination with white, the furnishings appear uncomplicated, charming and timeless. Wooden floorboards or wood-paneled walls ensure comfort and warmth without looking kitschy. Simply Scandinavian! A prime example of Scandinavian furniture production from natural materials is, for example, the armchair egg by designer Arne Jacobsen. The curved glass vase by Alvar Aalto (the good guy is a Finn, but his designs are very suitable for the Scandinavian style of living) is a natural staging with its curves. Among other things, it is reminiscent of a river.
Scandinavian design furniture: form follows function
Another maxim of Scandinavian furnishings is: Form follows function, and is thus based entirely on the principles of the Bauhaus. But despite the clear, no-frills design, people and their demands on the furniture always remain in view – and should be able to afford them. Very likeable, the Scandinavians