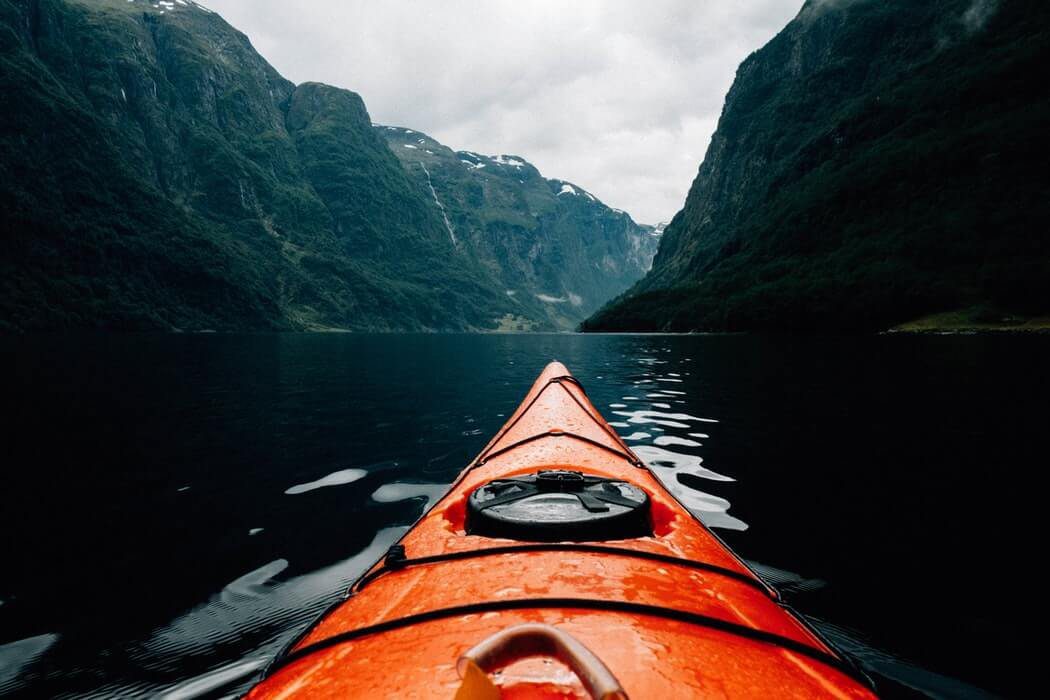 Known as the land of majestic fjords, rivers, and waters, Norway celebrates kayaking as a sought-after activity. From experienced paddlers to amateur maneuvers, kayaking in Norway fjords is a fun way to relax for all tourists. Above all, the fairy-tale setting of these fjords is sure to leave you in awe of  Norway's exalted beauty.
However, with innumerable fjords hosting some of the best kayaking trips in Norway, where should you go? You can go kayaking in Norway fjords under the dazzling midnight sun in summers. Or paddle across a forest lake right under the vibrant northern lights. Thus, leaving you with numerous options to pick from the bucket.
So, here are some of the best fjords in Norway that you can book to make your kayaking in Norway fjords a thrill-seeking adventure,
Geiranger Fjord
The UNESCO listed Geirangerfjord is plausibly Norway's most famous fjord. It is known for its steep mountains and serene waterfalls. Thus, making it a photographer's dream come true.
Kayaking in Geiranger is as breathtaking as the fjord itself. And what makes it so worthwhile is the splendid  Seven Sisters waterfall. With seven individual streams running down from a height of over 800ft, this waterfall is a must-see.
This kayaking tour of Geiranger by Geiranger Fjord Service will begin at the Geiranger harbor. It will take you to a scenic point between the "Seven Sister" Waterfall and "The Suitor" waterfall. And this is where your cameras must be ready to capture the heavenly beauty of Norway. Moreover, throughout the kayaking trip, your guide will share interesting facts about kayaking Norway fjords and specifically Geiranger fjord. Above all, this trip will not only give you a chance to explore the majestic fjord at sea level. But also befriend your fellow kayakers. And not to forget, that the guides are super friendly and will take good care of you. So, even if you undergo motion sickness right in the middle of the kayaking trip, you will be taken care of well.
Kayaking Tour Features: 
Discover Kayaking with a guide – a short kayaking trip perfect for beginners approx 2 hours
Tour of the Seven Sisters – a long tour close to the base of the waterfall approx. 3.5 hours
Mountain Farm Tour – a combined kayaking and hiking tour approx. 5 hours
Paddle and Hike – a day-long kayaking tour with a detailed itinerary approx 8 hours
Other Details:
Ticket Price: NOK 580 – NOK 1600
Age limit: 8 years and must be accompanied by an adult.
Meeting Place: Geiranger Kayak Center Homlong.
Experienced guide included.
Maximum 10 tourists per guide in a double kayak.
Meet up 15 minutes before departure time.
Clothes and footwear must be waterproof.
All necessary safety equipment is provided and no paddling experience is needed.
2. Hjørundfjord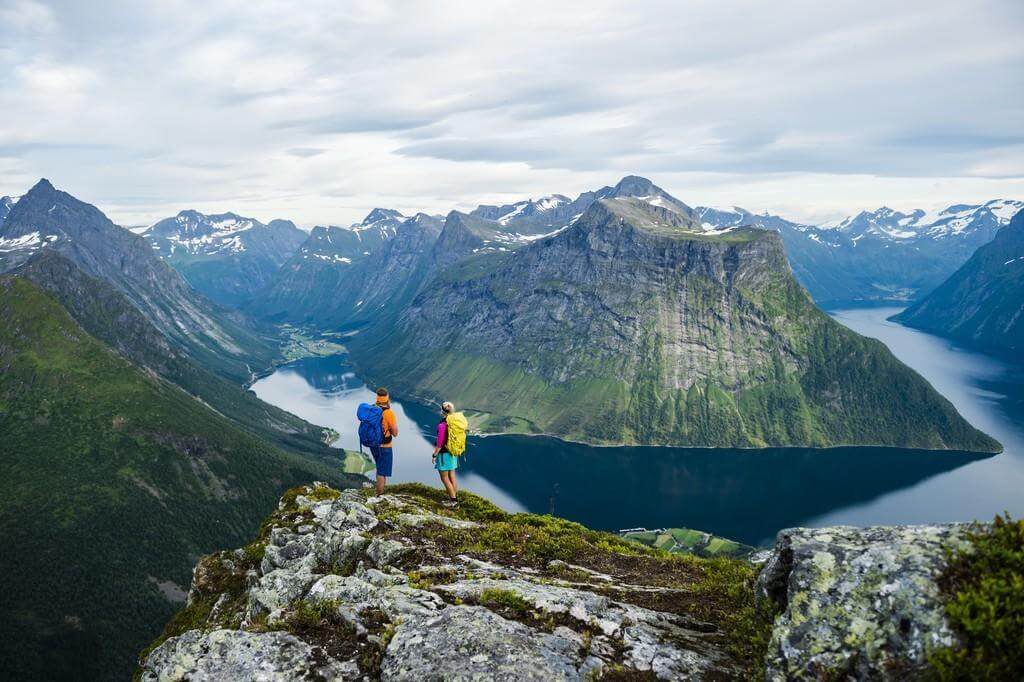 Hjørundfjord is relatively unknown among tourists. Therefore, locals call it the hidden gem of Norway. It is surrounded by the towering mountain peaks of the Sunnmøre Alps mountain range. And to elevate its majestic existence, the forested sides add a distinct touch of scenic galore. That is to say, the Hjørundfjord sits calmly in a beautiful setting of forests and mountains. Thus, making the kayaking adventure in this fjord a worthy addition to Norway's bucket list.
Kayaking in Norway fjords is a captivating experience. But, kayaking in Hjørundfjord surely comes with its own charm. So, your kayaking adventure in this pristine fjord will start with a Fjord cruise Hjørundfjord from Ålesund to Urke. The kayaking will then being with safety talks and precautions. Additionally, you will also get some basic training guides for using the kayaks.
This kayak tour is sure to surprise you with the natural beauty of the dramatic Norwegian fjords. From exploring the spectacular waterfalls to encountering wildlife like otters, eagles, and seals. This trip offers a lot of exploring adventures. Above all, the calmness of trickling water will be a calming experience for you. And towards the end of the tour, you will be back in Urke. Here you can treat yourself to a traditional Norwegian waffle and coffee.
Kayaking Tour Features: 
Fjord Hjørundfjorden
Absorb the beauty of majestic waterfalls
Explore the Fjord Wildlife
Other Details:
Ticket: 1300 NOK – 1590 NOK
Age Limit: 10 years
Duration: 3-6 hours depending on the type you book
Experienced guide included.
All kayaking equipment included.
Meeting Point is Øye, Norway.
Strict Cancellation policy.
Be sure to carry your own drinking water and snacks.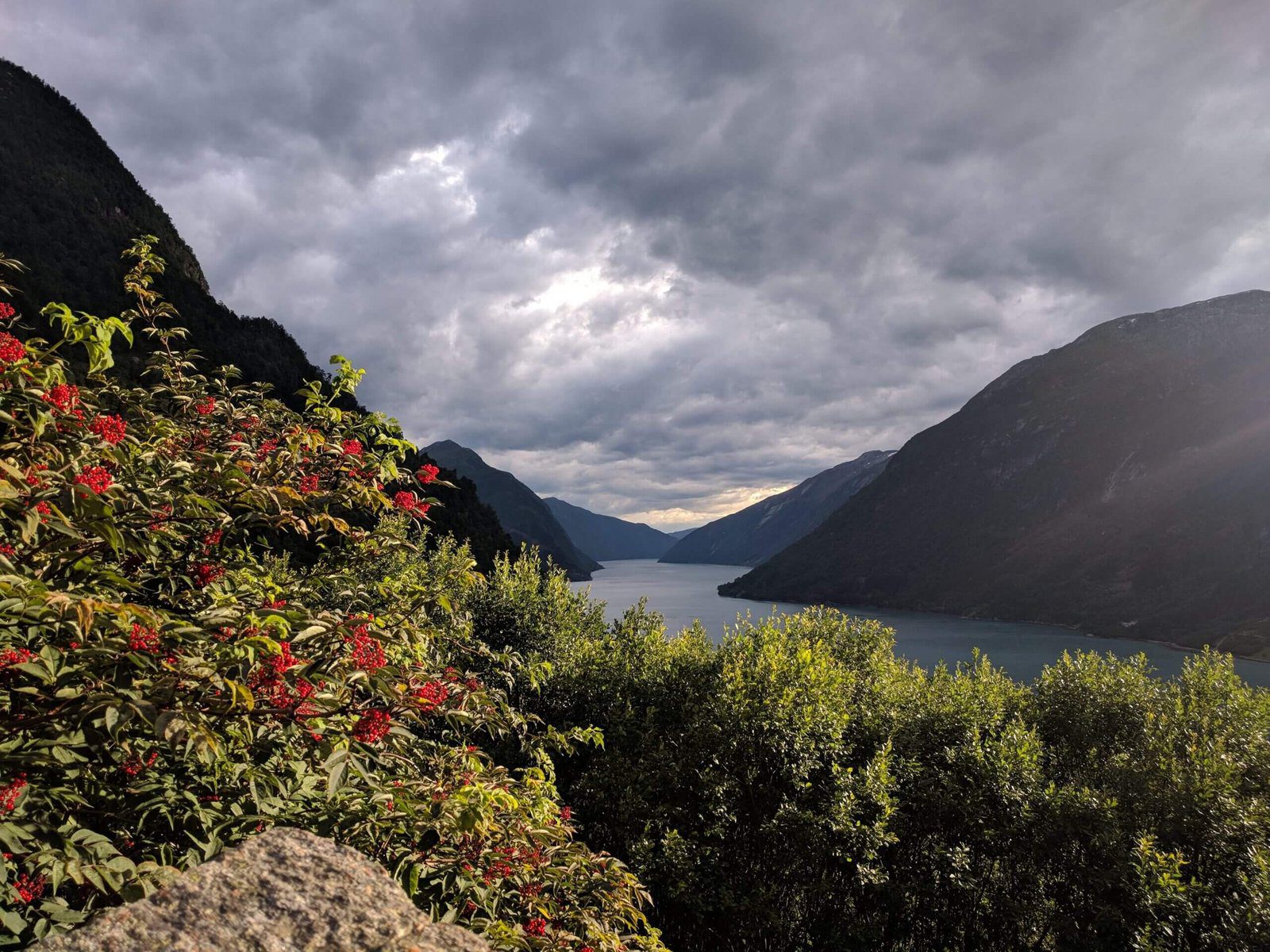 Sognefjord is crowned as the king of all fjords in Norway. Offering the longest fjord adventure, this fjord is a well-loved favorite when it comes to kayaking in Norway fjords.
Moreover, as it spreads over a 204-kilometer long distance, it branches out into three smaller fjords. These are the Nærøyfjord, Fjærlandsfjord, and Lustrafjord and can be explored through a day-long kayaking trip. This is why the depth of Sognefjord is said to have been crafted by nature for the sole purpose of kayaking.
Tourists can join the kayaking trips on any of the branches of Sognefjord. However, it is highly recommended and stressed that you accompany a guide at all times. That is to say, that Sognefjord and its branches experience strong winds and high water currents. Thus, making the weather conditions in the area severely unpredictable.
Above all, Sognefjorden is currently under the phase of being certified as a sustainable tourist destination. Therefore, very soon tourists will be able to enjoy an eco-friendly tour facility in this area.
Kayaking Tour Features: 
Fjord Safari
Kayaking in Nærøyfjord
Stegastein Viewpoint
Feigumfossen Waterfall
Solvorn village
Other Details:
Ticket Details :

Adults 1250NOK
Youth 680NOK (13 – 17 years old)
Child 650NOK (4 – 12 years old)

Departure Schedule:

Tuesday 9:15 am
Friday 9:15 am
Sunday 9:15 am

This trip will take you on a journey through the incredible mountains of Vikafjell to Framfjord.
Pick-up and drop-offs at Myrkdalen Hotel are available on request.
4. Aurlandsfjord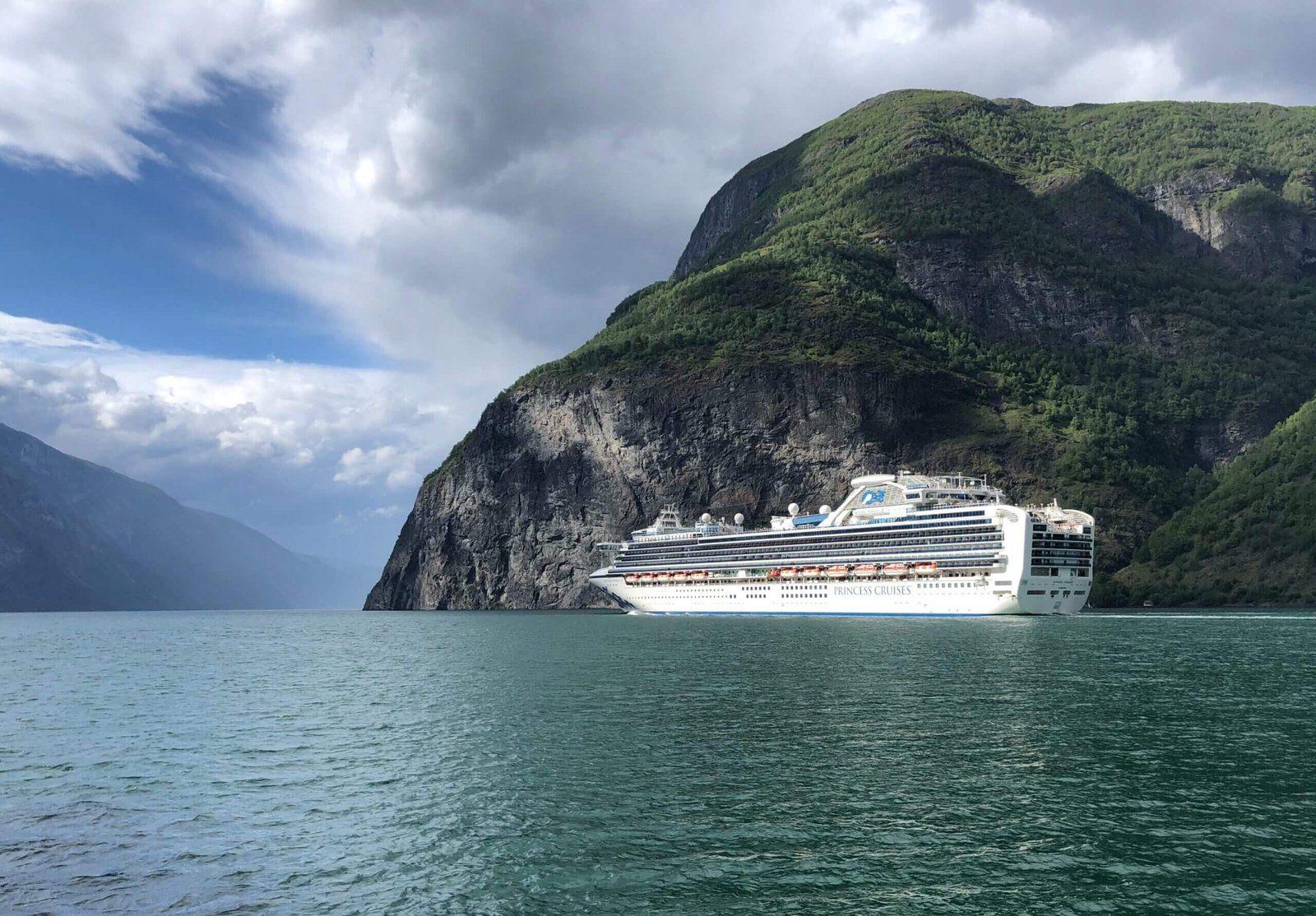 If you are staying in Flåm, do not miss out on the sea kayaking paddles by Fjord Tours. Because sea kayaking in Flåm is the perfect way to explore and enjoy the sights of Aurlandsfjord. You will get to paddle along this scenic fjord. Moreover, if luck decides to favor you, then your cameras might catch some seals and otters along the way.
This 3-hour kayaking adventure will immerse you in the tranquility of the calm water and mesmerize you with nature. However, before the kayaking officially begins, there will be a 20 min session. This session will give you a brief precautionary guideline, followed by paddling instructions.  To better guide you, A Njord-guide will take you out on the water to share the landscape and history of the area. Additionally, there will be a couple of stops along the way for you to enjoy and photograph some of the area's most heavenly views.
Kayaking Tour Features: 
Otternes Bygdetun
Viking age gravemounds
Kayaking through Flåm and Aurland
Other Details:
Meeting point: Flåm beach, 3 mins away from the train station
Age Limit: 5 years
Schdeule: 12:00-15:00
All essential kayaking equipment is included.
An experienced guide will be with you during the trip.
Stable double kayaks used on the trip.
Lunch is not provided so be sure to pack yourself a snack.
If you wish to unfold the enchanting beauty of Norway, then kayaking in Norway fjords should be on your bucket list. These kayaking adventures are for paddlers who love to navigate through coastal waters and explore intricate archipelagos. And so, paddling through the most glorifying yet pristine stretches of water will surely be the highlight of your trip to Norway. Thus, bestowing you with a chance to see the real Norway in the most extravagant of ways.