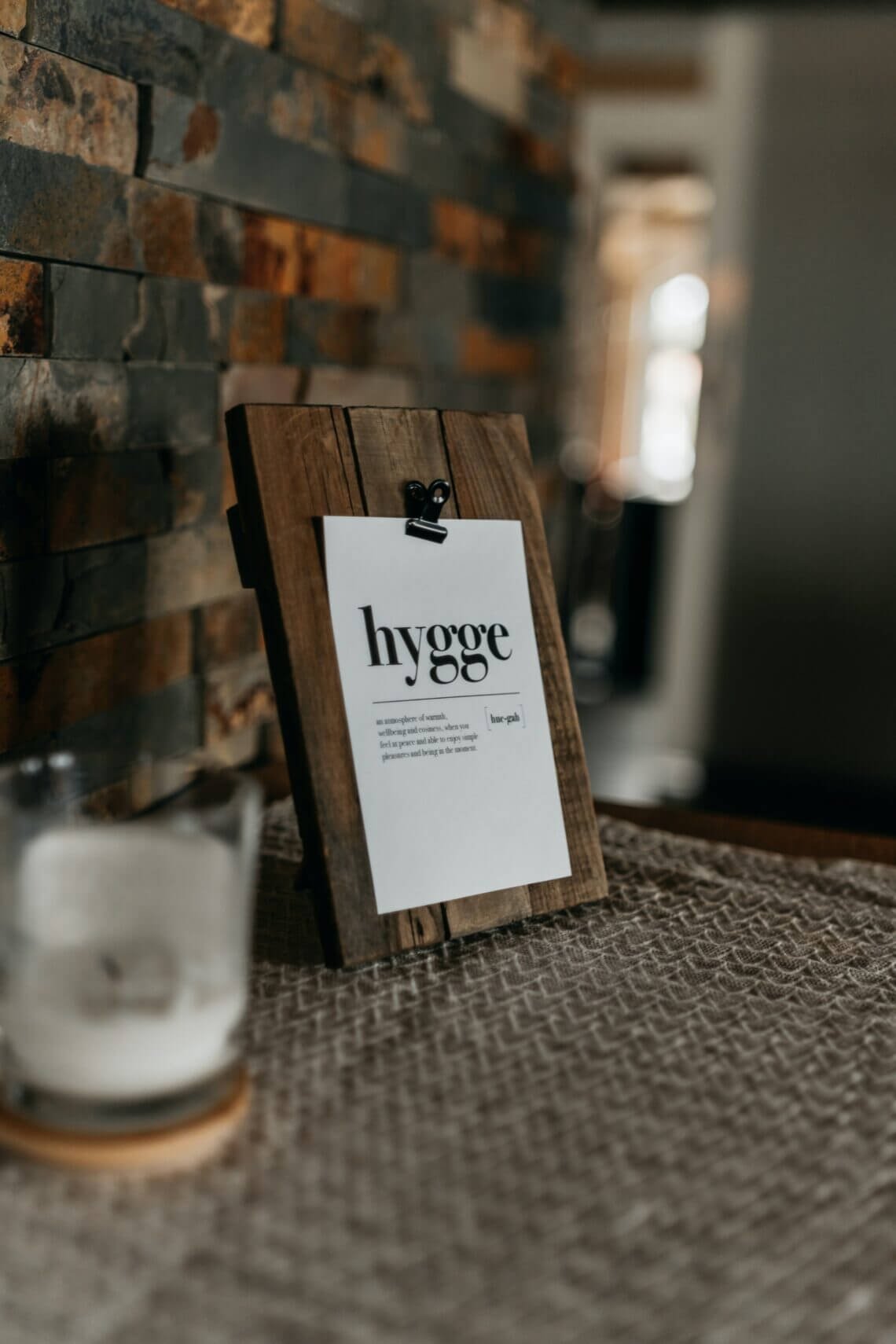 The Secret behind the Hygge Meaning
If you've been on Pinterest or Instagram lately, you've probably seen the word "hygge" popping up more and more. This Danish concept has taken the world by storm in recent years, and yet there are so many different interpretations of the word hygge meaning it doesn't really have an exact translation to other languages. English and Scandinavian languages have changed a fair amount in relation to eachother over the years, but still the closest English word companion you've probably noticed is "cozy". This is not incorrect and yet doesn't quite capture its full meaning.
While it is all about creating a warm and inviting space where you can relax and be at ease, the hygge meaning goes beyond interior design, its a feeling as well as a style.
A relatively new trend to most of us, the hygge meaning has been commonplace amidst a long history in Danish and Scandinavian culture. Read on to uncover the secret behind the hygge meaning, from its history to how you can incorporate it into your own life. And with winter on the way, we've found the single most important ingredient to a hygge lifestyle, so there's no better time to "cozy" up and learn how to hygge your home!
Where does the Hygge meaning come from?
The word "hygge" actually comes from a Norwegian word meaning "well-being". A word with a similar hygge meaning is the Dutch word "gezellig". It's thought to have originated in the 18th century as a way to describe the feeling of contentment. However, it wasn't until the early 2000s that hygge really started to take off outside of Scandinavia. In the past, Denmark was a rural society with long, dark winters. To get through those long months huddled indoors, people would light candles to brighten their homes and gather around the fireplace for warmth and companionship.
Today, even though Denmark is a modern country with all of the latest technology, Danes still try to incorporate hygge into their everyday lives. In fact, it's often said that hygge is one of the reasons why Danes are some of the happiest people in the world! Danish author Meik Wiking wrote a book called The Little Book of Hygge: Danish Secrets to Happy Living, which helped popularize the concept worldwide. And these days, there are entire magazines devoted to hygge living! The word has become so popular it was even entered in the Collins Dicitonary Top 10 words of the year back in 2016.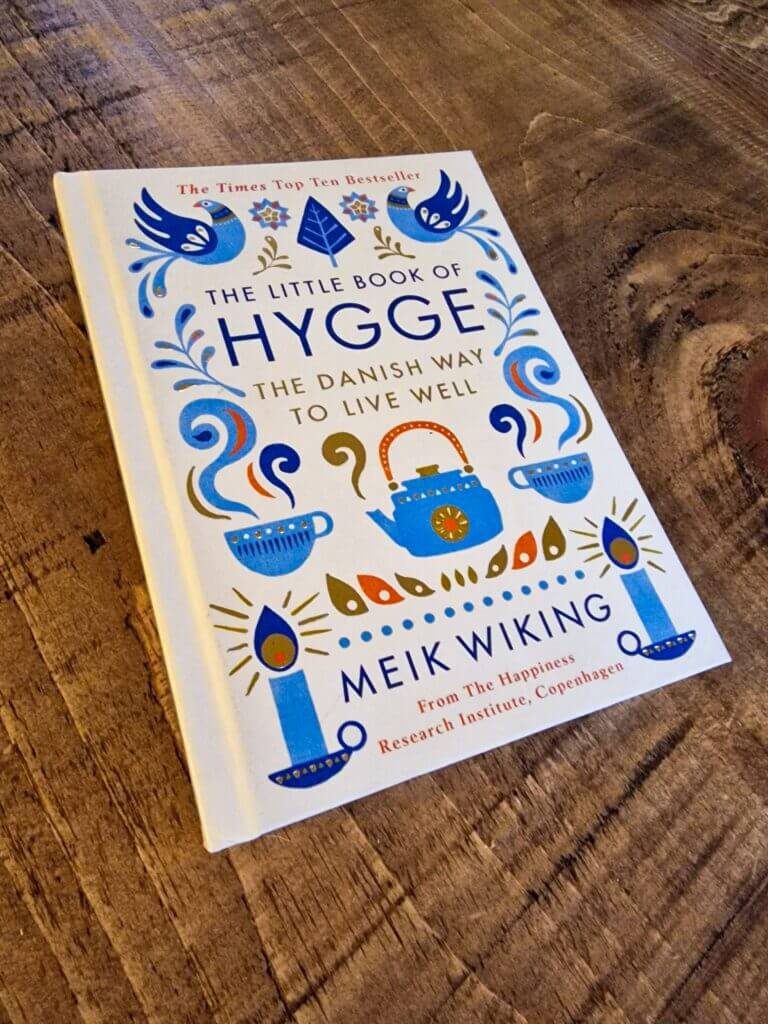 What is the hygge lifestyle?
The concept of hygge originated in Denmark but has since been adopted by people all over the world as a way to slow down and appreciate the simple things in life. In today's fast-paced world, we often get so caught up in our day-to-day lives that we forget to take a step back and enjoy the moment. Hygge is all about being present and savoring the little things that make life good. It can best be described as a feeling of coziness, comfort, and contentment. Maybe you feel it when you're curled up on the couch with a good book on a cold winter's day, or when you're enjoying a leisurely Sunday morning breakfast with your family.
Whatever it is that brings you joy, hygge is all about savoring those simple pleasures and creating a warm, inviting atmosphere. One of the largest tools for hygge living is through interior design. Focusing more on the nordic hygge meaning, the nordic interior design style is very much inspired by the hygge meaning, as opposed to its Scandinavian counterpart. Check out our deep dive into the differences between the two styles here.
How do the Danish pronounce hygge?
It is not just the hygge meaning that is hard to translate, the pronounciation of the word is often incorrectly taught, especially in the English speaking world. Check out our guide to the hygge pronounciation to find out more.
What are examples of hygge?
In Denmark, where hygge originates, people are known for their love of cozy firesides and spending time outdoors enjoying nature. But you don't need to live in Scandinavia to enjoy hygge in your own home. There are plenty of ways to incorporate this concept into your décor regardless of your location or climate.
So next time you're looking to cozy up your home or just want to relax and enjoy some quality time with loved ones, remember to embrace the hygge lifestyle! Here are a few ideas to get you started:
The Heart of the Hygge meaning – You!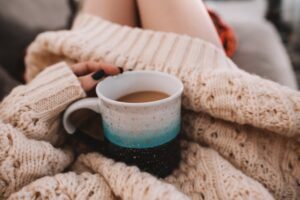 At its heart, hygge is about enjoying life's simple pleasures. Set aside some time each day for yourself – even if it's just 10 minutes – to do something you enjoy without any distractions. This could be reading, taking a nature walk, listening to music, or working on a hobby. Or try a bit of self care by buying yourself some cozy slippers or taking a few moments each day to enjoy a cup of tea or coffee in silence.
It's also important to get some quality time with those you love most. So take some time out of your busy schedule to relax and enjoy some quality time with your family and friends. Play some games, watch your favorite movie or bake some cookies together. These are the moments that matter most – and they don't cost a thing!
No Place Like Home
Make your home more inviting by adding cozy touches.
Candles are an essential element of hygge – they provide both light and warmth and create a sense of ambiance. Choose unscented candles in soft colors for a relaxing effect. Or go for scented candles with seasonal fragrances like pumpkin spice or peppermint to get you in the holiday spirit. Either way, make sure you have plenty on hand to light whenever the mood strikes you!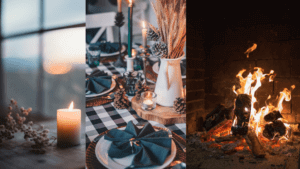 Blankets and throws are another must-have for achieving hygge at home. They lend both comfort and style to any room and can be used year-round. Drape them over sofas and chairs or keep them handy in a basket for snuggling up on chilly evenings.
Fireplaces are another key ingredient in the recipe for hygge living. If you're lucky enough to have one in your home, make good use of it! Nothing says cozy like curling up in front of a crackling fire with a good book or your favorite knit blanket. Don't have a real fireplace? No problem – there are plenty of electric options on the market that will do the trick nicely. Just make sure you have plenty of wood or coal on hand to keep the flames going!
A cluttered space can be stressful and overwhelming. So take some time to declutter your home and get rid of anything you don't need. This will help create a more serene environment.
Another way to create a sense of hygge in your home is through your color palette. We list some of our favourite Hygge and West wallpapers, take a look. Stick with earthy tones and jewel tones for a cozy feel—think warm shades of red, orange, yellow, green, and blue. Take a look at our painted furniture guide for inspiration.
Inspired by Nature
Connect with nature by spending time outdoors. Find your nearest forest or park and take a walk in the fresh air. Be sure to unplug from technology: One thing that makes hygge so special is that it allows you to disconnect from the hustle and bustle of everyday life and just relax. And then nothing encapsulates the hygge meaning more than coming back in from the cold after the walk and warming up by the fire with a blanket. You cheeks get a nice hygellig buzz from it, trust me!
After you've explored the outdoors, cook a warm meal: There's nothing like coming in from the cold to a warm meal waiting for you on the table. Cooking (and eating) is one of the best ways to spend quality time with loved ones, so make sure to whip up something tasty next time you're hosting friends or family members. Not only will everyone appreciate your culinary efforts, but they'll also love spending time in such a welcoming environment! Here are some Hyggelig recipes to get you started.
You could also bring a little of the nature indoors! Fresh flowers or an indoor plant can really brighten up any room and add a touch of nature – which is always welcome during those long winter months! If you don't have green fingers, opt for some stunning faux plants instead (just make sure they look realistic). Bonus points if you can find some branches or leaves while taking a walk outside to add as an extra element!
By following these tips, you'll be well on your way to creating your own hyggelig oasis at home – perfect for entertaining guests or simply relaxing after a long day at work
So next time you're feeling stressed or just need to take a break from your busy life, remember to embrace your inner hygge! Slow down, take pleasure in simple things, and enjoy quality time with loved ones. Doing so will not only improve your mood but also create lasting memories that you'll cherish for years to come.