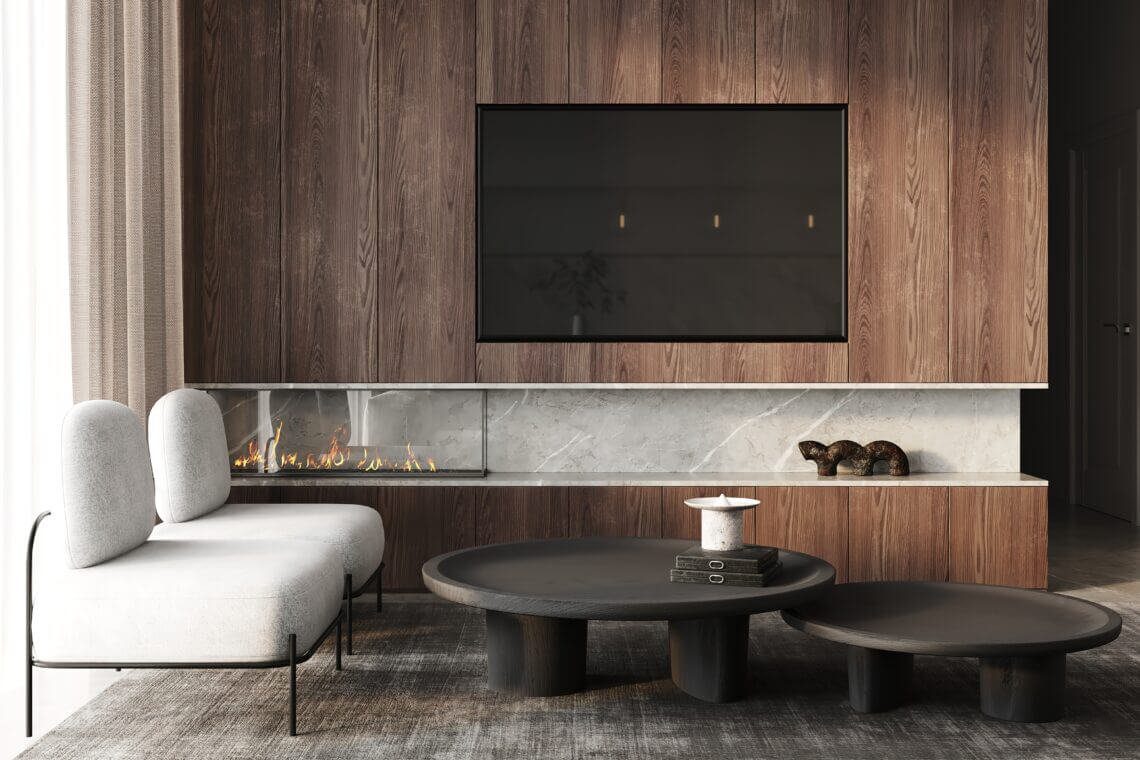 Japandi Style: The Best of Both Worlds
Japandi style interior design is a hybrid of Japanese and Scandinavian design elements, and is fast becoming a popular topic in home decor. The term "Japandi", derived from "Japanese" and "Scandi" interior design, is a great example of complimentary design philosophies working even better together.
This trending concept is really the best of both worlds, combining the funcitonality of Scandinavian design wih the natural minimalist elements of Japanese design. The result is a look that is stylish yet still creates a peaceful and uncluttered environment, championing the minimalist aesthetic.
Keep reading to learn more about Japandi style and how to infuse it into your home.
What is Japandi design style?
Japandi is a term used to describe the fusion of Japanese and Scandinavian design principles. Japandi design is characterized by clean lines, organic materials, neutral colors to achieve a a minimalist aesthetic that focuses on simplicity and functionality.
Scandinavian design on its own differs slightly from its Japanese hybrid counterpart. The colors are the main difference, darker woods and warmer tones feature more in the japandi style whereas Scandi design follows more of a cooler range, crisp whites and light woods. Scandi is typically quite modern in its elements as opposed to Japandi which incorporates far more rustic, natural elements; embracing a classic interior instead.
This style has since been gaining popularity as a reaction to the cluttered, busy designs that came before as well as a desire to incorporate sustainable alternatives into our lives. Japandi is all about simplicity, functionality, and beauty – three things that are very important in both Japanese and Scandinavian cultures.
With house prices at an all-time high, more of us are renting then ever before and the Japandi interior design style is probably one of the best suited to a rental property. The beige and natural tones that dominate the look make excellent use of white walls, very common in rentals where redocorating is restricted and painting is not permitted.
Japandi design originated in Japan, naturally enough. The Japanese have always been known for their clean lines, simple aesthetic, and focus on nature. In the early 20th century, Swedish individuals began traveling to Japan as part of the international arts scene. They were drawn to the minimalism of Japanese culture and began incorporating these elements into their own homes. Thus, Japandi design was born!
This aesthetic covers a wide range of design elements, from furniture and built-ins to color schemes and textile choices. The goal of Japandi design is to create a space that is both functional and aesthetically pleasing.
Elements that define what is Japandi style decor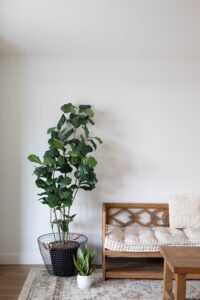 So, what exactly makes up Japandi style? As mentioned before, it is a mashup of Japanese and Scandinavian design aesthetics. As such, it combines simplicity with functionality. Japandi style essentially is an emphasis on organic materials, neutral colors, and clean lines.
The decor is a fantastic fusion of some of the most exciting design concepts. It takes the Hygge from nordic decor, coziness and comfort and pairs it perfectly with the Japanese philosphy of wabi-sabi – embracing subtle imperfections. The result, a japandi inspired space that acheives Zen. Transformed into tranquil sanctuaries – promoting balance, destruction and purity through colours, objects, textures and proportions.
By showcasing japandi design, rooms become beautifully designed elements of visual harmony where traditional styles are lovingly honored while achieving a modern lived-in feel.
Here are some specific elements you can look for when trying to achieve a Japandi aesthetic:
Minimalistic furniture with tapered legs
Sliding shoji screens
Paper lanterns
Woven textiles
Geometric patterns
Neutral colors like white, black, grey, beige, or brown
Natural wood finishes
Indoor plants
Why Japandi interior style is trending?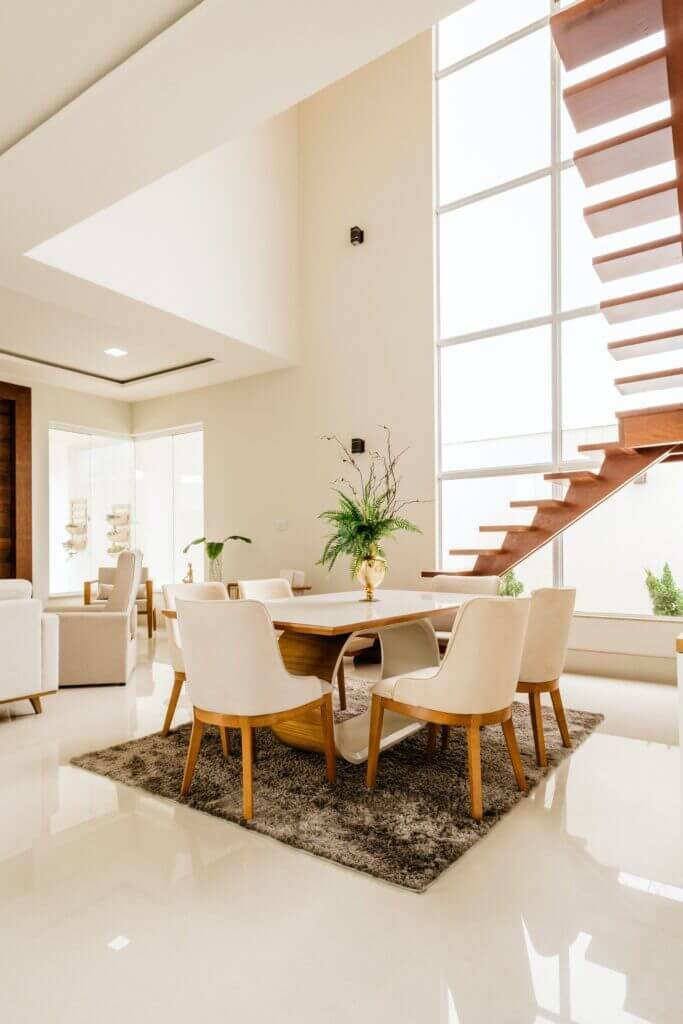 There are several reasons why the Japandi style has become such a popular trend in recent years.
First of all, our hectic lifestyles have made us yearn for simplicity and calm. This can be seen in the popularity of decluttering movements like Marie Kondo's "KonMari Method."
Secondly, the popularity of mid-century modern design has led many people to seek out furniture and decor with clean lines and organic materials.
Thirdly, sustainability has become critical in looking after our planet. The natural, long lasting element of japandi materials and items lends itself perfectly towards being more sustainable and enviromentally concious.
And finally, the rise of tiny homes and minimalism has made us appreciate the beauty of functional designs.
All of these factors have come together to make japandi one of the hottest trends in home decor.
How to achieve the Japandi Style
This aesthetic is achieved through the use of well-crafted furniture and decor items that serve a purpose. For example, instead of using end tables as purely decorative pieces, Japandi style end tables would actually be functional, providing a place to set down a cup of coffee or a book. A great compliment to a Japandi style coffee table.
The best way to achieve this look is by mixing and matching different elements from each style. You might opt for clean lines and light colors inspired by Scandinavian design, while adding in natural materials and minimalistic furniture reminiscent of Japanese sensibilities.
Take a look at this stunning house tour which really embraces the Japandi style:
If you love the look but are still not sure how to incorporate it into your own home, here are some more useful tips:
Keep things tidy and organized: Another commonality between Japanese and Scandinavian cultures is their focus on organization and cleanliness. Begin by decluttering your space and getting rid of any unnecessary items. In order to achieve the Japandi look in your own home, be sure to keep things nice and tidy . This doesn't mean every surface needs to be spotless at all times , but it does mean taking steps to declutter on a regular basis.
You might want invest in some pretty storage baskets for hiding away less-attractive items like blankets, toys, or extra throw pillows . Or, if you're short on storage space, consider using floating shelves instead of bulky bookcases. You can also get creative, and invest in high-quality furnishings that serve a purpose. Opt for a sofa that doubles as a guest bed or an ottoman with hidden storage
Incorporate natural materials whenever possible: Japandi design relies heavily on the use of natural materials like wood, stone, and bamboo. Textures like these help add visual interest to a space while still maintaining a minimalistic feel. If you're not sure where to start, try incorporating some bamboo shades into your window treatments or adding astone vase to your coffee table as a catch-all for keys, mail, and other miscellaneous items. Alternatively try adding some greenery with potted plants for a splash of color.
Invest in quality furnishings that will stand the test of time: One thing both Japanese and Scandinavian cultures have in common is an emphasis on quality over quantity. Rather than filling your home with cheap, mass-produced items, take time to invest in well-made pieces that will last for years (or even decades) to come.
This could mean anything from opting for solid wood furniture over particle board or choosing linen curtains over polyester blend ones. Not only will these pieces look better, but they'll also save you money in the long run since you won't have to replace them as often.
Choose a neutral color scheme: Probably the most distinctive part of the style, neutrals colours are key in achieving the minimalist aesthetic characteristic of Japandi design. Stick to colors like white, beige and brown when selecting furniture and accessories for your home. Then add pops of color with fresh flowers or art prints. This will help create a calming environment that feels both spacious and inviting.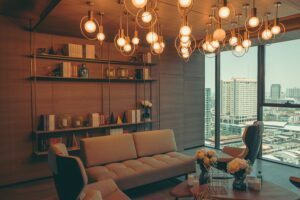 One final touch is to add some japanese or scandinavian-inspired elements to really drive home the theme. Traditional shoji screens or simple scandinavian textiles are perfect for this purpose.
By following the tips above , you can easily incorporate this trending style into your own home . Just remember to keep things minimalistic , uncluttered ,and cozy , and you'll be well on your way to achieving the perfect Japandi aesthetic
The Japandi design trend is a fusion of Japanese and Scandinavian design. This unique style has been growing in popularity, so it's worth considering if you want to give your home or office a fresh look. These tips will help you use the Japandi trend in your own decorating scheme. What do you think about this trend? Do you see yourself using any of these ideas in your home? Let us know in the comments!